I think everyone has different reasons to volunteer in the community. For me, I think volunteering is a way to really be a part of Memphis, not just someone who lives here. I was so excited to have the opportunity to participate in Volunteer Odyssey, not just to learn more about the area non-profits, but to find ways to give back to my community with my daughter. Volunteering is a form of service learning by which children can make connections between their actions and positive results. It's been very important to our family to help Janie Kathryn find ways to make a difference in her community… in the world. Volunteer Odyssey introduced us to many new ways to volunteer as a family.
The Memphis Botanic Gardens might be one of the best places to begin volunteering with your children. There are several opportunities to foster civic pride and responsibility, using a charming, age-appropriate setting to do it. Janie Kathryn joined me again on day six of and we headed over to our beloved My Big Backyard.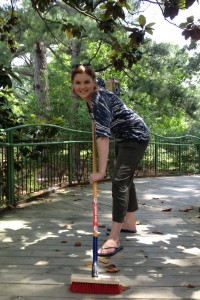 Brooms and buckets in hand, we set out to Playhouse Lane. We scrubbed woodwork and windows. We picked up trash and swept the floors. It was real work that required a real effort- and not just the physical kind. It's hard to stay focused on your responsibilities when you really want to join in the fun, but the end result was pure satisfaction.
We were hot and thirsty and tired, but Janie Kathryn looked at me and said, "This might be one of my favorite ways to volunteer." Cleaning those little houses might have been more play than chore to her at the time, but I can see the bigger picture. When she re-enters one of those houses she will be proud to know that she had a hand in its maintenance. She will think twice before she leaves a mess in one house and runs off to another. Her contribution to our volunteer work on day six was early civic responsibility. Because she volunteers as a child, this is a habit she is more likely to carry over to her adult life in the community that waits outside the whimsical walls of My Big Backyard.
————————————————————————————————————————
If you like our work, please consider making a contribution to keep it going!
Want the insider story and more pictures? Connect with us on Facebook and Twitter!
————————————————————————————————————————