Like many Memphians, I've long known about MIFA's mission but have never taken the opportunity to participate in their volunteer programs. That all changed this morning when I set off to deliver Meals on Wheels with the help of my driver – and Volunteer Odyssey founder – Sarah.
It took about 15 minutes to pick up the meals and receive my route. I had one cooler of hot food and another cooler of cold food. MIFA makes the volunteer process seamless from start to finish. I had Sarah, as my partner and driver today. I double checked to make sure I had five complete meals, directions, and donation envelope. Once everything was packed, it was time to go on a Friday morning adventure.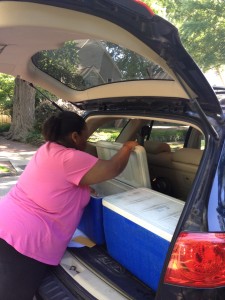 My route only had five houses, and it gave me a chance to explore the midtown area.  Each home I visited, the residents were happy to see me. As soon as the door opened, I was greeted with a smile.  With a greeting like that, I couldn't help but smile back. I felt happy and humbled at the same time. I asked them how they were doing and if they needed anything else. I also gave them a donation envelope that could be picked up during their next food delivery. They were very thankful for the meal and drink.
Taking the time to have real conversations with the residents we visited serves another purpose beyond helping maintain their sense of community; it also allows the volunteers to keep MIFA updated on how those residents are doing and if they may need a bit of extra help.
After our midtown exploration, Sarah and I  returned our route sheet and coolers to MIFA. The process was short, and easy, but despite how little time it took it was still very rewarding.  I got to meet new people, make sure they had a hot meal, and it felt good to be able to do something nice for someone else.
MIFA delivers meals Monday-Friday, excluding holidays. If you have an hour or two to spare one day, MIFA would love to have you volunteer. Thank you to the wonderful staff at MIFA for their hard work. I plan on going back soon to do more deliveries.
Thank you for reading! I'm searching for a job opportunity where I can apply my PR and Marketing knowledge at a nonprofit organization. I am also interested in development, event planning, and fund raising. If you know of a great fit, please send it our way: jobleads@volunteerodyssey.com
 ————————————————————————————————————————
If you like our work, please consider making a contribution to keep it going!
Want the insider story and more pictures? Connect with us on Facebook and Twitter!
————————————————————————————————————————-
————————————————————————————————————————-