Today I stepped way out of my comfort zone by cooking and trying tofu. I rarely have the chance to cook at home,  and I have never eaten tofu.
I volunteered my limited culinary talents to one of the Church Health Center's cooking classes. The center also offers many fitness classes and events for the entire family. Church Health Center is a great place to learn how to make small changes in your diet can make a big difference. All of the recipes featured in the class are quick, healthy, and easy to prepare.Both dishes were under 200 calories per serving and took less than an hour to make. On today's menu was a delicious orange chili tofu with broccoli and a creamy chocolate mousse made with silken tofu.
The cooking instructors, Carolyn and Jimmy, explained to a skeptical class the benefits of using tofu as a protein substitute. Once we learned about how its lack of strong flavor or smell makes it easy to incorporate it into any of our favorite recipes, we came around to how versatile an ingredient it could be. Carolyn also told us that tofu has a longer shelf life than meat, which cuts down on food costs.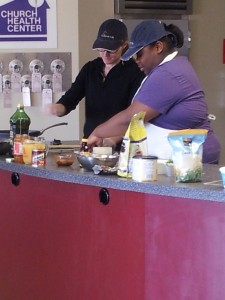 Throughout the morning, Carolyn explained that different types of tofu and their usefulness in different types of dishes. She also explained that cooking the same kind of food can get boring, so they try to provide a variety of recipes in the class. The cost of today's meal, $20, can feed up to 6.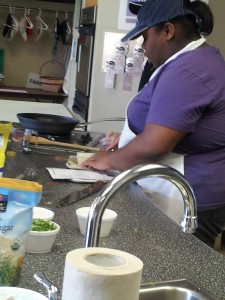 To help make sure that no one was intimidated, Carolyn also provided meal plans with the recipes. The meal plans were 1600 calories per day, and included 3 meals and a snack.
After all the chopping, melting, and mixing, we were finally ready to taste the final product.  The orange chili tofu was savory. I could taste the citrus and just a kick of the chipotle chili. It was better than I expected. The tofu was chewy but it tasted good! The chocolate mousse was rich and sweet. It had the same consistency as pudding, but more chocolate flavor. Both dishes got rave reviews from the class. Everyone enjoyed the food, and the idea of tofu for dinner did not seem so terrible. It was amazing how a 20 dollar meal stretched with 10 people. There were even leftovers.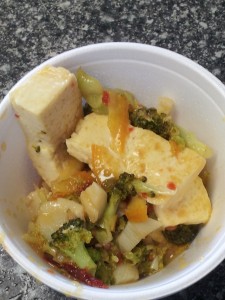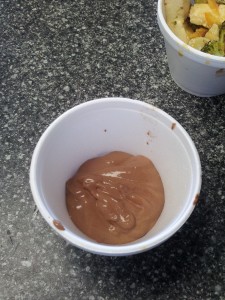 Thank you to the Church Health Center Wellness team for teaching an amazing class and for sending me home with a few smoothie recipes. The cooking classes are on Thursdays and open to the public. I had a good time, I learned that tofu is a healthy addition to any meal–especially when you add melted chocolate and organic sugar. I will definitely try both recipes at home once my cooking skills improve.
Thank you for reading! I'm searching for a job opportunity where I can apply my PR and Marketing knowledge at a nonprofit organization. I am also interested in development, event planning, and fund raising. If you know of a great fit, please send it our way: jobleads@volunteerodyssey.com
————————————————————————————————————————
If you like our work, please consider making a contribution to keep it going!
Want the insider story and more pictures? Connect with us on Facebook and Twitter!
————————————————————————————————————————-
————————————————————————————————————————-