Today, I had the chance to be artistic with the wonderful people at SRVS. SRVS's mission is to help adults with disabilities by increasing their sense of independence. SRVS accomplishes this by providing them a safe, comfortable environment and teaching methods that are focused on self-correcting activities. I have visited the center before, but I actually had a chance to help out in the Learning Center.
I worked with a small group of gentleman, and we painted on large pieces of recycled cardboard. When I went to recruit my group, I immediate got a hug from William, who was excited to come paint with me. Once I had my group, we got started with our masterpieces. We helped each other figure out what we were going to paint. I was really impressed by their skills.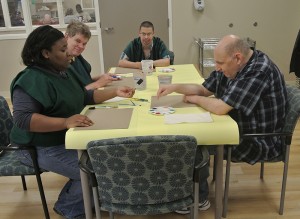 One of my group members, Christopher, kept me in check while I was painting my stripes, which really helped because I have never been able to stay inside the lines.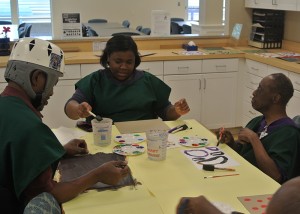 I could tell they were having fun because as soon as they were finished with one picture, they wanted to do another one.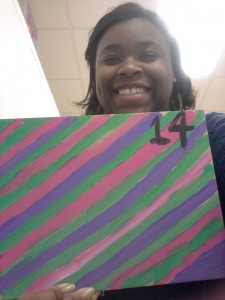 After art class was over, I got a chance to actually participate in a classroom. I had the chance to spend some one-on-one time with Ernest. We did puzzles and played games that were stimulating his gross and fine motor skills. While the games were simple, he really seemed to enjoy himself. He did all the puzzles himself with very little help from  me. And he was proud of it.  His positive energy rubbed off on me and we just kept having fun until it was time for me to leave. I even walked with him to lunch, which is held in this beautiful area that had a piano and a stage. Everyone knew who he was, clearly Ernest is loved and admired.
I had a great time today as SRVS. I never saw anyone frown the entire time I was there. Even just walking around, there were so many activities and lessons being taught. The staff is dedicated to making sure everyone is being included at all times and they are doing things for themselves. I was leave SRVS feeling happy because I know that these men and women are being cared for and they are doing things that wouldn't be possible if this amazing organization wasn't around.
A huge thank you to Allison, Volunteer and Activities Coordinator, who allowed me to enjoy arts and crafts with my group today.
Thank you for reading! I'm searching for a job opportunity where I can apply my PR and Marketing knowledge at a nonprofit organization. I am also interested in development, event planning, and fund raising. If you know of a great fit, please send it our way: jobleads@volunteerodyssey.com
————————————————————————————————————————
If you like our work, please consider making a contribution to keep it going!
Want the insider story and more pictures? Connect with us on Facebook and Twitter!
————————————————————————————————————————-
————————————————————————————————————————-