Today was my second day with Volunteer Odyssey. I spent the morning at the Alzheimer's Day Services of Memphis. The center provides activities and care for adults with Alzheimer's disease and Dementia. Everyone who enters the center is considered a friend, no one is just a volunteer, a participant, an employee. Calling someone a friend makes you feel comfortable and welcomed.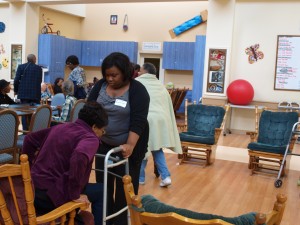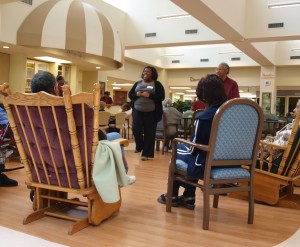 As I was taking the tour, I noticed that it was one large space but divided in different areas.   There was a fish tank and bird cage full of finches. There was a game room, arts and crafts, a kitchen. Each group of friends had several nurses with then. The nursing staff keeps everyone entertained, active, and happy. I read the morning newspaper to my group of friends, I asked them their thoughts on the topic. We had a good time. I was fortunate to participate in the morning sing-a-long which is about 30 minutes. It was good to see how no matter where any group was located in the room, they were all singing together. I helped with their exercises which are focused on fine motor skills.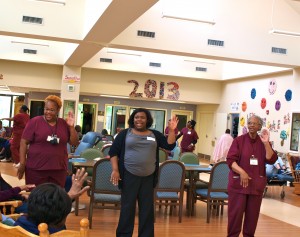 After volunteering with several groups, it was time for me to put myself in their shoes. I participated in the Dementia Sensitivity Experience. The purpose of the experience was to truly understand how someone with Dementia does everyday tasks we take for granted.
My hands were in prickly gloves, the sensation was strange. My fingers were taped together to give me the feeling of having arthritis  I had on these goggles that were blacked out around my peripheral area, and there were black dots in front of my eyes. I couldn't really see. I was also given insoles that were prickly too! The final piece of "garb" was a set of noise cancelling headphones that played a talk show or white noise that I couldn't really understand.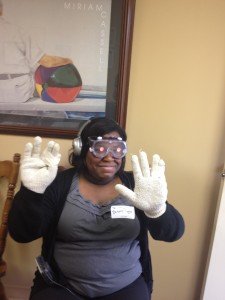 After I was all dressed up, I was taken to a darkened room where I was given a set of tasks to complete in 5 minutes.  I could not remember my  tasks. I couldn't pick up something as small as a napkin. I dropped silverware. I couldn't see plates that were right in front of me. I attempted to fold socks, that was so frustrating. I felt myself becoming more agitated. I mean, I know how to fold socks. I felt tears starting to form. Why in the world could I not remember? All of a sudden, time was up!It was the longest 5 minutes of my life.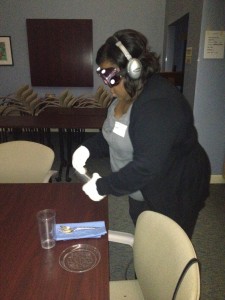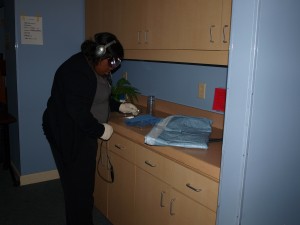 When I took the post survey, I had a better idea of how someone with Dementia felt. The facilitator shared with me what tasked I completed, which was not very many. I told her I felt confused, frustrated, and agitated. If I felt that only after 5 minutes. I can only imagine how someone lives with feeling like that every day. The Dementia Sensitivity Experience is something I highly recommend to anyone. If you've ever been curious about what it's like. If there is a family member who has Dementia. It made me more aware of the friends I met earlier today.
I had an eventful day. It was an eye-opening experience. I am actually going back tomorrow to help with an event called, Forget Me Not. The event takes people through the Dementia Sensitivity Event. It will be very interesting to see how other people feel after the activity is over.
I am very grateful to the Alzheimer's Day Services staff and the wonderful friends I met today.
Thank you for reading! I'm searching for a job opportunity where I can apply my PR and Marketing knowledge at a nonprofit organization. I am also interested in development, event planning, and fund raising. If you know of a great fit, please send it our way: jobleads@volunteerodyssey.com
————————————————————————————————————————
If you like our work, please consider making a contribution to keep it going!
Want the insider story and more pictures? Connect with us on Facebook and Twitter!
————————————————————————————————————————-
————————————————————————————————————————-