I woke up on day 7 feeling kind of weird knowing it was my last day with the program. I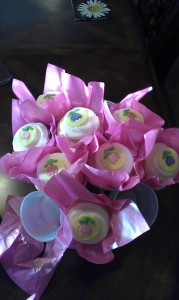 know that this does not have to mean it will be my last time volunteering or anything but Sarah and Volunteer Odyssey made it so easy for me to volunteer. I can only hope I am able to gather enough self-discipline to keep a few hours of volunteering in my weekly routine. The feeling that comes with helping others is wonderful and definitely something I would like to continue. My goal is that when you hear from me again I am able to report that I have continued in what I believe is my duty as a resident of Memphis and am still helping others in the community.
Okay, on to day 7. On this day I spent my evening at the Dorthy Day House of Hospitality. My husband, daughter, and I spent a couple of hours simply visiting with the residents of the house. We stayed for prayer and dessert hour and pretty much talked while the kids played. It honestly felt like we were visiting a friend's home on a Sunday evening. If you don't already know, the Dorthy Day House is the only shelter in Memphis that is willing to take in homeless family. All of the other shelters force families to separate. Can you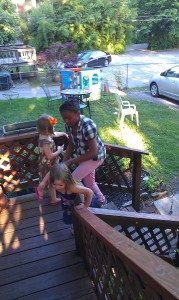 imagine being a single mother of a thirteen year old boy and being forced to separate from him in order to have a place to stay at night? This happens all of the time in our city (as well as other cities). Most shelters simply will not agree to take both males and females in the same facility. The Dorthy Day House is an exception to this rule. This shelter which resides in a beautiful home built in the early 1900's is equipped to house three families. The home is beautiful and feels exactly as it should, like a home. If you have ever visited a shelter you are aware that although the facility might try to and make the residents stay feel "homey", it just doesn't usually happen. After all, how can it feel like home when you have to shower at a scheduled time after waiting in a long line and eat with 100 other people cafeteria style. I have hear many people who have stayed in shelters in other states describe staying in a shelter as being in prison. The residents at the DDH have one large room per family, a large dining room, a great room, a play/computer room, and an amazing kitchen where families are free to cook their family's favorite meals. The DDH is 100% funded by donations from private donors and is run almost entirely by volunteers. This means that they do not receive finding from and local or state programs and are currently not funded by any grants. It is amazing to think that there are citizens in Memphis that have been gracious enough to provide this program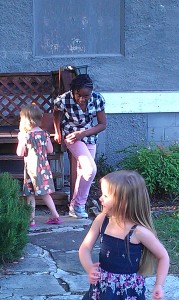 with so much.
Thank you for reading! I'm searching for a job opportunity where I can apply my social work skills and improve our community. If you know of a great fit, please send it our way: jobleads@volunteerodyssey.com
Want to know more about Samantha? Check out her bio:
http://volunteerodyssey.com/participants/#samantha-hicks