Day 6 was a different type of volunteer experience for me. My assigned duties for all of the previous days have been doing something directly with individuals. Today I was at the Habitat Restore working both alone and with another volunteer (Atina, a veteran member of Volunteer Odyssey) on a project that would hopefully help the store to raise more money for Habitat for Humanity.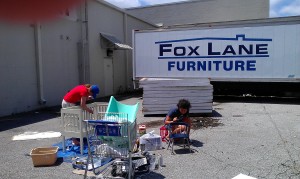 If you don't know what the Restore is, here is the run down. Community members and businesses donate unwanted items ranging from clothing to kitchen cabinets to be sold at the store. The money made at the store goes to fund the Memphis area Habitat for Humanity projects. It's that simple! My job on day 6 was to pick out an object in the store and give it a makeover! The hope is that the store will make more money on the newly remade item than they would have in its previous state.  I chose to work on cute white bench. It was the perfect size for a morning project.  I am very happy with how it turned out considering I used materials found around the selves of the store.  What do you think? Pretty cute if I say so myself!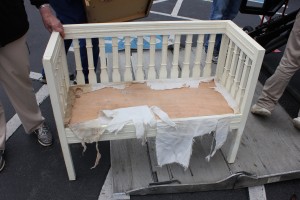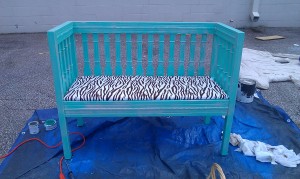 The day I spent my time at Restore, it was full of volunteers! Everyone was working very hard on jobs ranging from cleaning the furniture on the floor of the store to assembling items in the back. Joe, an employee, explained to me that they have lots of people and groups from the community come to help out.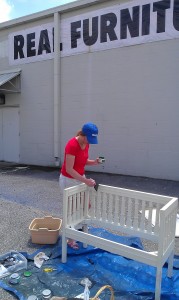 They also require the homeowners who are receiving services from Habitat for Humanity to work a total of 300 sweat equity hours per adult. Many of these hours are clocked in at the restore. Joe made it clear to me that it would not be possible for the store to run so smoothly without the volunteers. They provide endless man hours that are NOT taken for granted! So, if you want to spend a few hours working with great people (and maybe do a little thrift shopping yourself), contact Restore. They welcome and are grateful for all of their volunteers!
Thank you for reading! I'm searching for a job opportunity where I can apply my social work skills and improve our community. If you know of a great fit, please send it our way: jobleads@volunteerodyssey.com
Want to know more about Samantha? Check out her bio:
http://volunteerodyssey.com/participants/#samantha-hicks