Okay, I don't mean to be over the top or anything but today was AMAZING! On day 4 I had the opportunity to hang out with the awesome kids and staff Knowledge Quest. Once again, being new to the area, I did not know much about the program. When I pulled up to the campus there were children running around everywhere playing and releasing energy after a long day at school. Across the street was a very large garden area where community members were working tilling the ground. There were flowers, fruits, and vegetables planted in these amazing raised garden beds. It was a sunny day and everyone, kids included, seemed to really enjoy being there.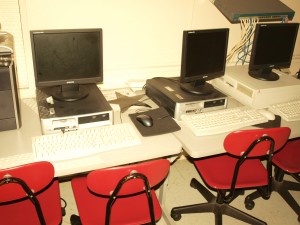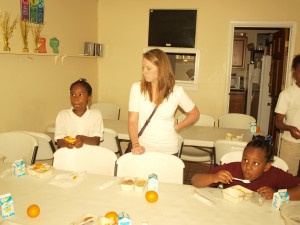 I was given the grand tour by Andy from whom I learned about the awesome things that were going on there. Knowledge quest is spread out into several different campus (there are hopes of being in one large facility one day). These campuses welcome neighborhood children to come and hang out after school. By hang out I mean enjoy a healthy snack (ranging from white meat chicken nuggets to a turkey sandwich on wheat accompanied by low fat milk and a piece of fruit), get exercise, receive tutoring and educational services from certified teachers, and learn about different things including community and music. Children are welcome to come and stay from the time they are released from school until 6 o'clock in the evening. Many of these children would be what you might call "latch key" kids if it weren't for the center. I asked one fifth grade girl if she went to a babysitter's house after school before she started coming to Knowledge Quest. She looked at me kind of funny and said "well no. I babysat my cousins after school." This was coming from an 11 year old little girl. What a relief it must be for her to be able to go to Knowledge Quest after school where she can play with friends and work on her homework without all of the responsibility! Did I mention that all of these services are free to the families?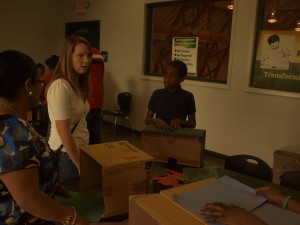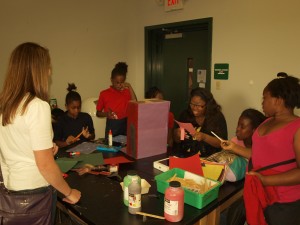 Once again, AMAZING! Knowledge Quest is staffed by both full time and part time employees. They also receive lots of help from the community members and families. On this particular day there were both teenagers, adults from the community, and parents volunteering their time to help out with the children.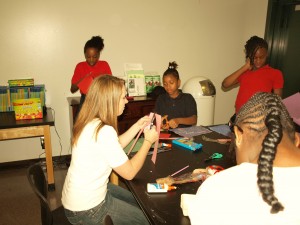 Although I was able to meet and talk with children of all ages, I found my niche working with the fourth and fifth grade girls. The kids have been working on making a model of what they would like their community to look like. My group, led by a sweet girl named Infinity, was working on the "Glamorous Hotel!" After all, every community needs a glamorous hotel! J Other students were working on different parts of the community which included restaurants, a post office, and a bank, just to name a few.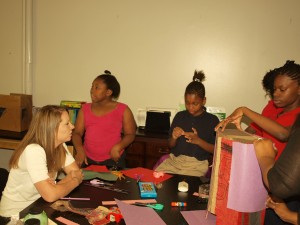 The girls were beyond sweet. They asked lots of questions and were very interested in what I was doing there. They also thought I was 17 or 18 years old which was especially sweet! This was a great opportunity for me because it is the perfect place for me to bring my daughter along! I hope to return with her in the next couple of weeks! Speaking of the next couple of weeks, summer break is right around the corner. This means that kids at Knowledge Quest will be there for their summer program which is every day of the week and includes before and after care. What am I trying to get at? Well, there is an extraordinary amount of need for volunteers during the summer. I can't think of a better way to spend my summer than hanging out with these awesome kids! Have I mentioned that I can't wait to go back?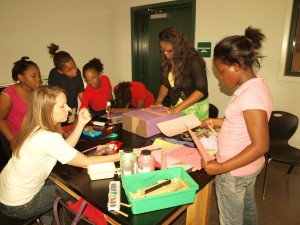 Thank you for reading! I'm searching for a job opportunity where I can apply my social work skills and improve our community. If you know of a great fit, please send it our way: jobleads@volunteerodyssey.com
Want to know more about Samantha? Check out her bio:
http://volunteerodyssey.com/participants/#samantha-hicks