Amidst the Harleys and Yamahas of Memphis' Bike On Beale Street is another type of bike. Every Wednesday for more than a year, a dedicated team of Urban Bicycle Food Ministry bicyclists can be found weaving in and out of the crowds, distributing freshly wrapped burritos, socks, toiletries, and other small items to anyone in need of basic necessities.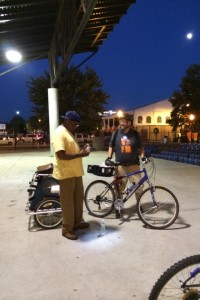 UFBM volunteer Dave handing out burritos and water.
Once run out of Tommy Clark's Midtown house, the Urban Bicycle Food Ministry now claims a little slice of kitchen space in a downtown church, and it was here that I found myself on my last Volunteer Odyssey day.
When Sarah, founder and executive director of Volunteer Odyssey, first interviewed me about my interests, I casually mentioned biking. I like biking. I used to do it a lot more before I got a car and laziness overtook me. Do you know what's an easy way to get from A to B? A car. Moving to Memphis seemed like a good time to kick (or at least diminish) my car-diction, and what better way to do it than meeting up with the Urban Bicycle Food Ministry (UBFM)?
(I totally stuffed my bike in the car and drove to the church, by the way.)
Volunteer Odyssey's intern, Mira, joined me at the church and, after introducing ourselves to the other volunteers, we set to work making burritos. With three years of experience professionally making burritos at my very glamorous college cafeteria, I was fairly confident I had burritos under control.  Alas, I hadn't counted on having to stir one million trillion pounds of beans, rice, and meat. As noted in an earlier post, I have no arm strength. After huffing and puffing for a few minutes, I generously offered a nearby volunteer, Elizabeth, a chance to stir. Elizabeth does things like run half marathons and, if I had to guess, she's probably done a triathlon or two. I figured she could handle it.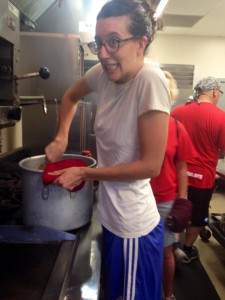 So this was more stirring than anticipated.
The UBFM has a smooth flowing burrito-rolling system and, after Elizabeth finished stirring the burrito fixings, a dedicated team of volunteers set to work filling, cheesing, rolling, and wrapping hundreds of delicious burritos. Like the nonprofits where I volunteered at earlier in the week, the UBFM volunteer team is a family with plenty of jokes, support, and a little sass when needed.
Once the burritos were wrapped, Mira waved goodbye just as Sarah rolled up.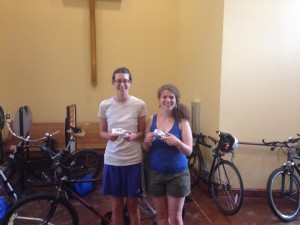 Kat and Mira displaying their burrito handiwork.
Sarah kindly invited me to be a part of her route ("Downtown"), where I was quickly introduced to Dave, Lauren, and Lyle. Elizabeth also joined us, and soon we were loading our backpacks with burritos and stocking Dave's bicycle trailer with candy, water, socks, and toiletries.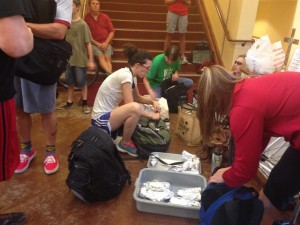 Stuffing backpacks with burritos.
With bike lights flashing, we pulled onto the dark street and began our trip through downtown. People know to expect the UBFM team. One lady saw us coming, waved, and followed us a few blocks to a park to collect her burritos. While the team recognized some burrito regulars, others were new. Regardless, each person got a couple of burritos, a few minutes of conversation, and, if they wanted, the opportunity to share prayer requests.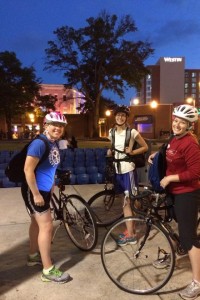 Lauren, Kat and Sarah riding the Downtown Route.
As a volunteer and former volunteer coordinator, I'm used to the paperwork, volunteer badges, and schedules that typically come along with these opportunities. The UBFM is a little different. A very grassroots effort, the UBFM operates on a serve-as-you-feel-called basis. Volunteers roll up on bikes or in cars. They stay for a half hour or they stay for four. Like other nonprofit volunteers though, they are cheerful and generous, willing to lend their hands to the task.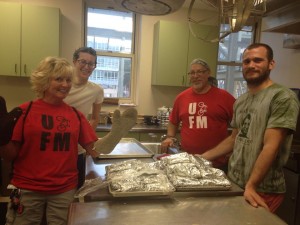 Volunteers Elizabeth, Kat, Brent, and Chris
I drove home that night, bike tucked in the trunk, feeling energized in that way only night bike riding and interaction with good people can leave you feeling. Maybe next week I'll leave the car behind.
Thank you for reading! Like what you read? Kat Franchino is a freelance writer and an avid blogger. She will happily take on any writing challenges. Contact her at katfranchino@yahoo.com or jobleads@volunteerodyssey.com.
—————————————————————————————————————————————————
If you like our work, please 
DONATE
 to keep it going!
——————————————————————————————————————————————————
——————————————————————————————————————————————————