I first heard about Dorothy Day from my friend Eric. At the time, we were both volunteering with a nonprofit to host non-denominational worship services at Glacier National Park. Eric was a hitchhiking, train-jumping, crusty punk kid with a lot of tattoos and even more stories. He was a terrific storyteller and terribly unimpressed with my music choices. Somewhere along his travels, he wound up volunteering and living at a Dorothy Day House. I want to say in North Carolina.
Kat and Eric at Glacier National Park.
I haven't seen Eric in years, but I think of him and his stories frequently. Opening my Volunteer Odyssey schedule and discovering the Memphis Dorothy Day House for Day 5 was a huge treat. There are approximately 250 Dorothy Day Houses in the United States. One of the most interesting things about the Dorothy Day Houses is that each house is run independently from one another, so focuses are different.
The Memphis house is for homeless families. It is unmarked, blending in easily with other residential homes in the area. Based on my other posts that hint at my navigational struggles, it probably comes as no surprise that I blew right past it.
I think it can be incredibly hard to define what a homeless shelter is or isn't. Through the years, I've seen a church, an old health care center, a rumored-brothel-turned-convent and a former Masonic lodge all serve as shelters. Now, though, I've seen a shelter that looks exactly like a house. Everything about the Dorothy Day House is welcoming -the plush couches, the long dining room table, and the piano in the front hall. It's a house you want to be in.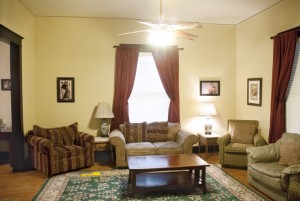 The Dorothy Day House living room.
Volunteer Odyssey alumni have done a terrific job sharing the Dorothy Day House's mission in their blog posts, so in an effort to save time and not be too terribly repetitive, I'll simply share a few of its highlights with some nifty bullet points.
About 150 homeless families in Memphis at any given time. This number does not reflect families living with friends/family or in motel rooms.
In Memphis, women and children accepted at one shelter; men at another. Teenage boys are not accepted at either and may be put into foster care until families are more stable.
Dorothy Day House works to keep families together while providing a home-like atmosphere. Up to three families can stay at the house, which has three bedrooms and a very home-like atmosphere.
I joined a mother-son volunteering duo and hung out for a 10-minute prayer service with two families staying at the house, a board member, and Sister Maureen. Sister Maureen is one of the people responsible for starting up the Dorothy Day House nearly a decade ago to keep homeless families intact in the Memphis community.
May I pause here to say that I love Catholic sisters? In Kansas, I used to hang out at a sustainable farm run by the Dominican Sisters of Peace. They had a herd of alpacas and taught classes on how to spin alpaca fiber.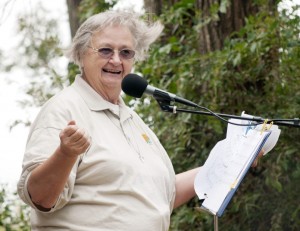 Sister Terry of Heartland Farm in Kansas.
I've lost a lot of card games to Catholic sisters three times my age and clearly three times my wit. Last December, I wound up quitting my job to live with Peruvian Catholic sisters in their convents.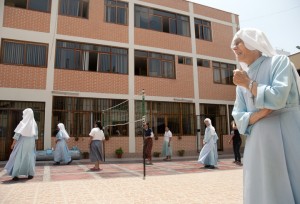 Madre Lucia supervising an impromptu volleyball game in Peru.
It probably goes without saying that Sister Maureen is stellar, but let me just reiterate: Sister Maureen is stellar. I sort of feel that if there's a social justice issue going on and something needs to be done about it, just get a Catholic sister like Sister Maureen on board.
Onward.
Prayer was short and sweet–perfect for anyone with kids. Over beautifully decorated cupcakes brought by the lovely volunteer Anne, our group traded book recommendations, shared summer plans, and bantered about the differences and similarities between culture in Northern and Southern states.
The biggest thing I took away from the Dorothy Day House is that it is a community built around family. The feeling of this is a homeless shelter never quite sunk in for me. Rather it felt like, oh look, new friends! Well done, Dorothy Day House, well done.
Kat and Dorothy Day
Thank you for reading! Like what you read? Kat Franchino is a freelance writer and an avid blogger. She will happily take on any writing challenges. Contact her at katfranchino@yahoo.com or jobleads@volunteerodyssey.com.
—————————————————————————————————————————————————
If you like our work, please 
DONATE
 to keep it going!
——————————————————————————————————————————————————
——————————————————————————————————————————————————