As a recent Memphis transplant and life-long volunteer, I figured I'd better start getting acquainted with my new city. I signed up for a Volunteer Odyssey week in hopes of meeting new people, discovering different volunteer opportunities, and, with any luck, learning a few city streets. My ability to navigate ranks right up there with my ability to sail the high seas in that it's nonexistent. I had hoped that moving to Memphis would force me to turn into a human GPS, but, so far, no dice.
Somehow I pulled out a miracle, took the correct turns, and, at promptly 7:15 am, found myself in the Catholic Charities parking lot being greeted by two volunteers, a 16-passenger van and the ever-present Memphis sun. It turns out that, much like the Memphis heat, Fig Tree Food Pantry volunteers like to get an early start. The food pantry employs just one staff member and relies heavily on a team of well-oiled volunteers who pick up, sort, and distribute much of the pantry's food.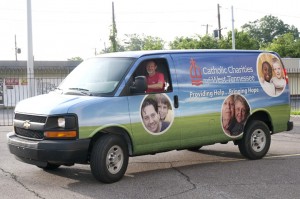 Al, awake and ready to go!
Joining me at the food pantry was the fabulous Mira Biller, Volunteer Odyssey's new summer intern. Since Mira and I are both new to Memphis, we befriended one another and quickly bonded over our mutual love of flip phones, volunteerism, and cheap Vietnamese food.
Our first stop was the Mid-South Food Bank to pick up this week's order. Long-time Fig Tree volunteers Ronny and Al are food bank pros and know exactly what items they have to look for. As they wandered up and down the aisles collecting a few boxes of granola bars here and a couple of cans of beans there, Mira and I followed and created the "What's-The-Weirdest-Food-Here?" game. I have my money on the container of powdered goat's milk.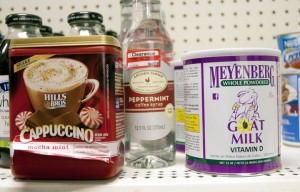 One can of powdered goat's milk, please!
The Food Bank runs a tight schedule, so soon enough we were whisked back to the pantry to unload the van. Alas, possessing fabulous arm strength is not a skill set of mine.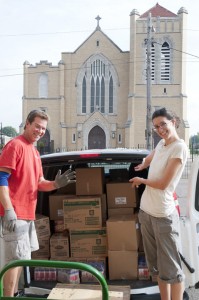 Minutes later, it was determined that I have no arm strength.
Making up food bags is, however, and so away I went with Ms Gloria to prepare Walking Homeless Bags (small food bags, 18 are handed out daily). Ms Gloria is the food pantry's sole employee and flat out fabulous. She patiently answered our questions, introduced us to other food pantry volunteers, and shared a little bit about her incredible life story.
If I had to sum up Ms Gloria (and all Fig Tree volunteers for that matter) in a single word and I think that word would be positive! The Catholic Charities staff and its volunteer team are warm, welcoming, and gracious.  The longer Mira and I bagged food, the more apparent it became that Fig Tree volunteers are more than just a team –they're family. The level of respect they have for each other is immensely apparent as they lend a hand to one another, tell jokes, and celebrate accomplishments and special moments, like birthdays.
Not only was today the start of my Volunteer Odyssey week, it happened to be Gloria's birthday, therefore Mira and I found ourselves initiated into the Fig Tree family with slices of cake and a moving birthday poem written and read by fellow volunteer Melinda, who writes poems for each lucky birthday boy or girl. And before we left, volunteer and self-proclaimed foodie Felix wrote out a two-page list of Memphis restaurant suggestions for us.
While I did not achieve the rank of Master Food Bag Maker, I left the Fig Tree Food Pantry feeling inspired by its incredible team and by this authentic and humbling volunteer experience. Onward!
Thank you for reading! Like what you read? Kat Franchino is a freelance writer and an avid blogger. She will happily take on any writing challenges. Contact her at katfranchino@yahoo.com or jobleads@volunteerodyssey.com.
—————————————————————————————————————————————
If you like our work, please consider making a donation to keep it going!
Want the insider story and more pictures? Connect with us on Facebook and Twitter!
—————————————————————————————————————————————