I have been to the Memphis Botanic Gardens once before. I knew it was spacious, but I had no idea how enormous it really is. It is a 96-acre property containing 28 different distinctive gardens. I did not know that volunteers, primarily, maintain the gardens. There is a small staff for a big place. Volunteers are used in almost every aspect of the garden such as planting, maintaining gardens, and assisting with events. The botanic gardens could not operate without volunteers. There are twenty-three gardens on the property, the most impressive to me is, the rose garden because there are many varieties of roses there, but my favorite is the herb garden. There, they grow almost every herb imaginable and have information on the uses of all of them.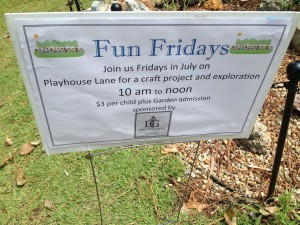 On Friday I volunteered at, "My Big Backyard." My Big Backyard is the area of the botanic gardens specially designated for children. Here, children can play, splash, and discover. My Big Backyard has sixteen different areas; they are all designed with children in mind. During the summer, special events are held in My Big Backyard; they include: summer camps, "Firefly Glow Parties", "Mud Pie Mondays", and "Fun Fridays"
My volunteer experience had me help with "Fun Fridays." Fun Fridays are held each Friday from May until July. Each Friday includes a different activity or craft that kids can participate in, and then take home. The cost of Fun Fridays is $3, which pays for all the materials needed to make the craft. Children of all ages can participate. On this Friday our activity was held at the House of Rock on Playhouse Lane. Each house on Playhouse Lane is unique, and designed by a different artist. Since we were at the House of Rock, our corresponding craft was a drum. The base of the drum used a lemonade container. Each child selected a string so that the drum could hang around their neck, then they customized their drums with duct tape, stickers, and markers. We encouraged the children to gather sticks from the area to use as drum sticks. The children enjoyed discovering how to make different sounds depending on which area of the drum they hit. The children had a great time; one group left the activity, drumming, as if they were in a parade.
I had a wonderful time at the gardens. I gained an appreciation for the dedication of the volunteers through learning how much they do; The Memphis Botanic Gardens is such an immense place and takes work to maintain. I have enough trouble keeping a potted plant alive in my apartment; I can't imagine the amount of work it requires to keep the gardens looking stunning. While you are there it is so easy to forget that you are in the middle of a city.
Thank you for reading! I'm searching for a job in public policy, non-profit administration, or social science research. If you know of a great fit, please send it our way: jobleads@volunteerodyssey.com or raeannepitts@gmail.com
——————————————————————————————————————————————————
——————————————————————————————————————————————————
If you like our work, please consider making a
contribution
to keep it going!
——————————————————————————————————————————————————
——————————————————————————————————————————-