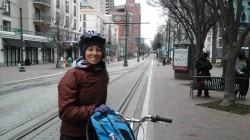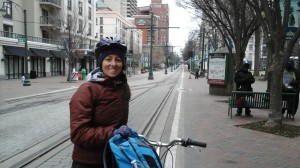 The worst things about getting up early during the winter is the fact that it is still dark outside and that I have to put my bare feet on the cold wood floors in our house. Besides those two things, I actually like being up in the mornings. I like the quiet, driving on the empty roads, and observing who else is outside early on a Saturday morning. Volunteering with the Urban Bike Ministry gave me the opportunity to enjoy all of the things I love about mornings in addition to a cold, yet satisfying bike ride. I also got to meet new people and the feeling that I made a difference in at least one person's day.
Early every Saturday morning, the volunteers of the Urban Bike Ministry make their way to the First United Methodist church to cook hundreds of breakfast burritos to pass out to the homeless and hungry on the streets of downtown Memphis. As soon as I walked into the building at 7am, I was ushered into an already bustling kitchen. Eggs were being cracked and whisked, sausage was being fried and rice was being cooked. I was given the job of prepping tortillas and was happy to have my hands busy. As the regular volunteers cooked, I listened to their easy conversation and laughter, enjoying the warmth of the kitchen as well as the people. Once everything was mixed into a giant pot, we formed an assembly line where our many hands made quick work by assembling over 200 burritos.
                                                  Busy kitchen!                                                                           A whole lot of burritos!
Once the burritos were ready to go, we pulled on our layers and loaded our backpacks with all of the candy, gloves, socks, hats, hand warmers and burritos we could carry. We put on our helmets, hopped on our bikes and headed out into the cold morning.
This was my first opportunity to bike in Memphis and I enjoyed riding through the streets of downtown. It always amazes me how much more I notice from a bike than when driving in a car. As I biked with my group of volunteers, I watched as folks who had become regular burrito recipients greeted them by name. It was powerful to observe the relationships that have formed between people whose paths would not have crossed without this organization. I also had the chance to hand out a lot of burritos and hopefully start on my own path to forming those special relationships.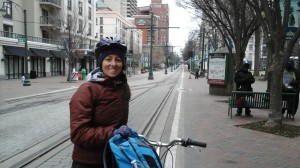 Biking downtown.
As we biked around the city, I had the chance to talk to some wonderful people who told me some of the reasons that they love Memphis and recommended places that I must try and events that I should attend. I truly value the advice I have gotten from people that will help me explore Memphis and discover its many hidden gems.
After about an hour of biking, I arrived back at the church with cold fingers, an empty backpack and a happy heart. I am in awe of the individuals that dedicate their Saturday mornings to providing a warm meal to the homeless on the streets of Memphis. I plan to keep dragging myself out of bed on those cold, dark mornings (at least as many that I can!) so that I can join the volunteers of the Urban Bike Ministry to bike with burritos.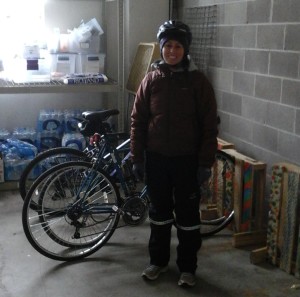 Back at the church.
If you like our work, please DONATE to keep it going!
---
Want the insider story and more pictures? Connect with us on Facebook and Twitter!
Looking for great volunteer opportunities in Memphis? Check out our calendar of volunteer opportunities.