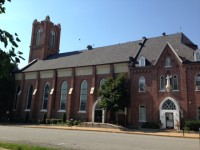 Today's adventure took me to St. Mary's Catholic Church to help feed the homeless in their Soup Kitchen.  The church is a beautiful old edifice built in the 1800's, and one of the oldest churches in the city.
I think my grandmother was married at this church.  The Soup Kitchen has been operating almost as long as the church has been here – since 1870.  This was going to be my first experience in a soup kitchen, so I didn't know what to expect.  All I knew is that I felt like this fit perfectly with my mantra for wanting to get involved with the nonprofit world – everyone deserves respect, no matter the circumstance.
I arrived just before 7:00 a.m., and met Ron and Martin.  After taking out a load of trash, I met up with two students from Christian Brothers High School, and the father of one of them.  The four of us were then put on sandwich duty.
We made quite a few peanut butter sandwiches that would be handed out with the soup later that morning.  It's funny how peanut butter sandwiches always take me back to my childhood – I loved them, and had them for lunch every day.  There is something comforting about a peanut butter sandwich.  After getting the sandwiches knocked out, we went upstairs to the attic above the church and sorted through clothes that would be given to the homeless later in the week.
During the break before service, I had a chance to chat with Martin.  I asked him how long he had been with the Soup Kitchen, and what brought him here.  He explained he had been here for several years, and shared with me what led him to the soup kitchen.  His honesty in opening up about what was in his heart made it sound like he was called to be here – like he is right where he needs to be.  Though we did not talk for long, this conversation is what I remember the most because it moved me. I could tell he was speaking from his soul.
It was time to begin serving, so we all gathered in a circle in the kitchen, and prayed, and Ron put us in our stations.  Before going out to the porch where we would be passing out the food, Ron made this point quite clear, "Tell each person 'good morning', and don't forget to smile.  Your smile may be the only smile they see all day!"
We finished passing out the food just before 10:00 a.m., and as Ron said, we must have done a good job because nobody threw it back at us!  I think what I got most out of today's experience was my conversation with Martin.   Hearing what led him to get involved with a nonprofit organization sounds similar to the path that I'm following.  Certain life experiences change your priorities, and you get called in a different direction.  This seems to be a recurring theme with the people I have encountered on my Volunteer Odyssey.
As we were finishing with the clean up, I was walking around the church to pick up trash left in the parking lot, and I came upon one of the men we had just served.  He motioned me to come over so he could throw away his empty cup in the trashcan.   I took it from him, and as I walked to the dumpster, said, "You have a great day!" and I made sure I didn't forget to smile.
If you like our work, please DONATE to keep it going!
---
Want the insider story and more pictures about James's journey? Connect with us on Facebook and Twitter!
Looking for great volunteer opportunities in Memphis? Check out our calendar of volunteer opportunities.