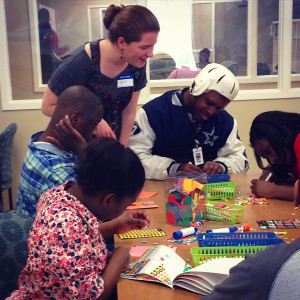 When I first learned I would be volunteering at SRVS (pronounced serves), I was nervous yet excited about this unique opportunity. SRVS supports people with developmental disabilities and offers a variety of services for personal growth and development. Since I had never worked closely with people with developmental disabilities, I knew it was important to enter this experience with an open mind. My visit began with a neat tour of the facility from Lindsay Weaver. When she described to me what the clients do in each area, I couldn't help but wish to be part of the fun. The clients are encouraged to explore their interests and develop new skills through innovative activities. Before this visit, I was concerned that I would hear sad stories regarding the challenges of living with or caring for someone with a disability. However, the chance to see and hear what clients love doing during the week put my mind at ease.
I understand why the people they serve are genuinely happy. With its equally warm and supportive environment, SRVS enables each person to make choices and enjoy more of what life has to offer. The agency's services, which include residential, employment, clinical and learning center services, help people live, work, and learn to their fullest potential. Throughout my time with the clients and staff at SRVS, I was constantly reminded that so much could be achieved with the proper support system.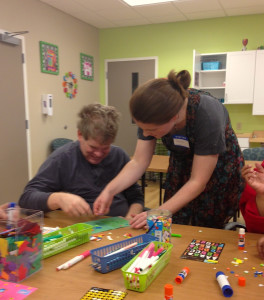 Throughout the morning, the clients were kept busy and satisfied with a variety of tasks and crafts. Honestly, I underestimated the number of enjoyable activities offered each day. From planting a garden to creating beautiful works of art, clients have many opportunities to make and experience special moments with others. Art continues to be my go-to creative outlet, so I was excited to make greeting cards with clients. I felt like I was being invited to the ultimate Arty Party! The creative space is dedicated to the clients' creative processes and includes a wide selection of art supplies. I gained valuable insight into the clients' personalities and interests through their pieces. After assisting with a couple of art classes, I had the chance to learn more about the Montessori method of education in a classroom. This method enables people to pursue their natural interests and hone their skills through exercises that promote the development of their individual selves. I can see why there are many supporters of the Montessori philosophy. You would have been impressed with how fast Gary matched images of seashells with their names. Also, Barbara beautifully demonstrated her advanced skills and techniques in ribbon weaving. I appreciate how the daily activities are structured to build upon the strengths in a way that is meaningful to each client at SRVS.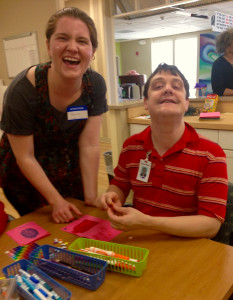 There was no reason for me to be nervous before my visit. Like any other human being, a person with developmental disabilities wishes to explore and enjoy what life has to offer. At SRVS, clients can simply be themselves. Isn't that what we all want?
If you like our work, please DONATE to keep it going!
---
Want the insider story and more pictures? Connect with us on Facebook and Twitter!
Looking for great volunteer opportunities in Memphis? Check out our calendar of volunteer opportunities.