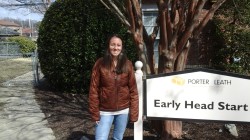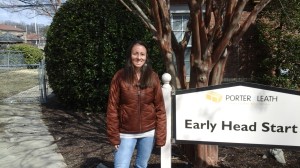 I love children and Porter Leath Early Head Start is definitely the place to be to get my kid fix. When I arrived, I had the opportunity to stick my head into all seven brightly decorated classrooms, filled with children aging from a few months to 3 years old. In each classroom, I was greeted by huge grins, waves and sometimes, even a little dance from the kids. How could I not instantly fall in love with this place?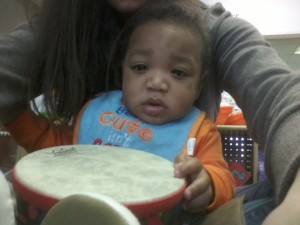 Regis and I playing the drums!
There is no place in the world like a happy classroom, especially one full of toddlers. As I sat on the floor in classroom 3, I was immediately swarmed by kids. I had one little girl crawling into my lap, a boy grabbing my hand and another boy playing with my hair. I felt my whole being relax as I found my happy place.
Dancing like jumping beans!
During my time at Porter Leath Early Head Start, I sat in on the weekly music sessions for each class. Led by the music teacher, the kids sang, clapped, played the drums and danced. There was nothing for me to do, but join in wholeheartedly! I was only too happy to sing about making cookies, building snowmen and drinking hot chocolate.
In each class, I watched a few kids particularly shine and glow with the chance to make some music. As I listened to these kids sing and play their instruments, I thought about how lucky they are to have these music classes at such an early age.
Singing and drumming.
Throughout the morning, I always had at least one child leaning against my side and I basked in the closeness and the unconditional affection of them. Looking around the circle of little music makers, I realized that I was truly the lucky one to be a part of this experience. I walked out with a huge smile on my face and lightness in my step. I can't wait to go back!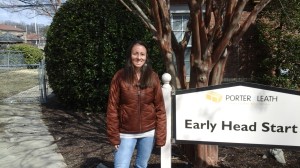 Leaving with a smile on my face!
I want to share one last image. As we were cleaning up after the last class, the fire alarm went off. The music teacher and I helped lead little ones out of one of classrooms. As I walked toward the grass with a little hand holding mine, I looked back to see the teacher from the infant room walking out the door. She was rolling a crib. As she passed me, I saw the bewildered faces of six babies looking up at me. I couldn't help but smile.
If you like our work, please DONATE to keep it going!
---
Want the insider story and more pictures? Connect with us on Facebook and Twitter!
Looking for great volunteer opportunities in Memphis? Check out our calendar of volunteer opportunities.