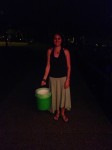 The Levitt Shell has become a very popular place in Memphis again. Hundreds, sometimes thousands of people flock there many weekends of the year to see free live concerts (50+ shows per year). I've been among the crowds many nights, and it's always a pleasure to enjoy an evening with friends on the lawn, hula hooping to great tunes, and simply reveling in being outdoors. In 2011, the Shell decided to partner with Indie Memphis, adding a Summer Concert Film Series to their weekend lineup. Last night, I was able to see my first concert film as I volunteered for Indie Memphis' showing of Paul McCartney & Wings: Rockshow.
The rain was falling off and on all day, and a heavy downpour right as I arrived for my volunteer meet up almost canceled the night. Thankfully it passed, and people slowly started to trickle in to set up their chairs on the grass. As soon as the crowd settled in, Cathy (a regular volunteer) and I took bright green buckets and wandered through the crowd to gather donations from attendees. Since these Shell events are free, they are made possible by community support – including donations by attendees of the shows. Almost everyone I asked donated, a few dollars or more. Most didn't even need to be asked; these people already had their money in hand waiting for me to arrive. It was nice to see people's generous spirits and support. When the film started, I got to enjoy watching the film with a few friends and also help at the Indie Memphis information and merchandise table.
The Levitt Shell is one of my favorite places in this city. Connecting with people at this amazing outdoor arts pavilion under sun and stars is always something special. Even further, it's great to witness the partnerships with other nonprofits who support the arts like Indie Memphis. Indie Memphis offers year round programming to inspire and connect the Memphis community around independent film. Both organizations are doing something really positive to make Memphis even more awesome. By offering free entertainment like the Summer Concert Film Series, everyone in the community has an opportunity to be there, without monetary boundaries. For that, I'm grateful.
Thank you for reading! I'm searching for a job in community outreach, empowering people through movement and education. If you know of a great fit, please send it my way: AdrieneHoops@gmail.com
~Adriene
—————————————————————————————————————————————
If you like our work, please consider making a contribution to keep it going!
—————————————————————————————————————————————
Want the insider story and more pictures? Connect with us on Facebook and Twitter!
—————————————————————————————————————————————