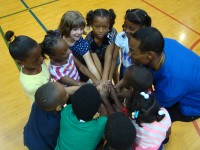 If you live in Memphis, I don't have to explain to you the difference between East and South Memphis. In my thirteen years as a Memphian, I can count on one hand the amount of times I've been to South Memphis. Janie Kathryn, well, our visit to Knowledge Quest was her first time. As I weaved through the narrow streets, I wondered what she would take away from the experience. Would she notice the teddy bears hanging from various telephone poles, makeshift memorials for victims of violence who lost their lives on the very streets on which we were driving? Would I… Should I… Could I explain this to her? How do you explain to a 7 year old that the children we are about to meet live in a neighborhood where worse things than raccoons in the attic keep them up at night.
She didn't see the teddy bears or if she did, she didn't ask.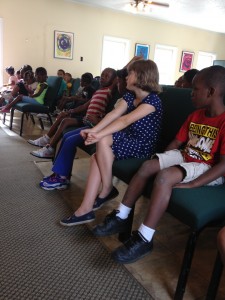 When we arrived at Knowledge Quest, I reminded Janie Kathryn to save all of her important questions for the ride home. We took a brief tour of the grounds, admiring a lush community garden that put our measly little sprouts to shame. We entered the main building and joined a morning assembly, where the children were engaging in a discussion about what it means to be a friend. It seemed as if we were miles away from teddy bear clad poles, in a little pocket of hope, love, and learning. Ms. Ward invited Janie Kathryn to sit on the front row with nine other rising second graders. She politely accepted, taking a seat farther away from me than she would have liked. I watched her as the assembly continued and I knew she was afraid. My fearless daughter was sitting on the front row, stiff with fear but showing nothing but confidence to everyone else in the room.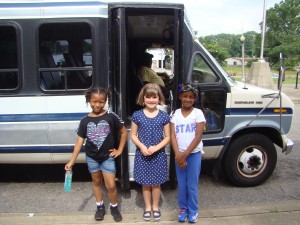 What was that fear? Did she sense that she doesn't belong? Did I overestimate her ability to acclimate to any environment? A short time later, we boarded a small bus with the other second graders. As she clung to me, breaking my own rule, I asked her why she was uncomfortable. "I don't know these kids mommy. They all know each other, but no one knows me." Of course she doesn't know anyone! What child wouldn't feel awkward in that situation? So, when we unloaded the bus I initiated introductions to two girls and we entered the Gaston Community Center.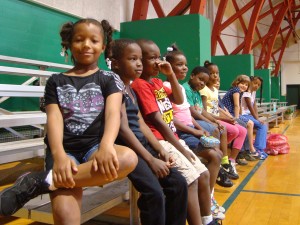 It was there that we met Mr. Jason, who engaged the children in a little stretching before beginning a lesson about tee ball. While Jason brought each batter up to the tee, I chased after the wiffle ball and practiced a little classroom management in the "dugout". Janie Kathryn? Well, she was her usual silly self, laughing and carrying on with her new friends as she waited for her turn to bat. After all the children practiced hitting, catching and running the bases, we dismissed for lunch.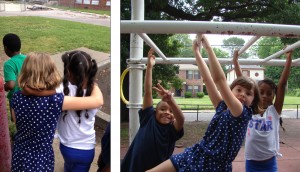 Accompanying her new friends to the community park outside, Janie Kathryn joined the picnic and played on the playground. After lunch it was decision time… catch the bus back to the Knowledge Quest building or stay for arts and crafts time? "Oh, please mommy, can we stay a little longer," my child begged. Of course, we stayed a little longer. We stayed and we played and our new friends took turns taking pictures with my camera.
On the way home, I asked Janie Kathryn what she thought and if she had any questions about our experience. She replied, "When can I go back and play with my new friends?" It was the most inspiring response I could have received. By the way if you don't know the difference between East and South Memphis… Well, if you ask a seven year old, all you need to know is that it's nothing that a game of tee ball can't resolve.
————————————————————————————————————————
If you like our work, please consider making a contribution to keep it going!
Want the insider story and more pictures? Connect with us on Facebook and Twitter!
————————————————————————————————————————