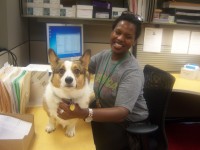 Today, I learned the MHS is an independent non-profit that survives off private donations and grants. It takes $5,000 a day to operate. That's $1.8 million a year.
Going in to volunteer, I was afraid that they would put me with the biggest fluffiest dog that they had. Not because I'm afraid of them or anything. Gosh no. But because I love them and would have wanted to take him home! Instead I got a chance to meet a quite a few of the canine personalities. I met with several dogs and the designated walkers to get to know the animals and take notes on their personality.
The blurbs that I created would be used to display on their windows as people come to see them as they are choosing a dog to take home. The information would also go on the MHS website for people to read as they attempt to better know the dogs online and make decisions about the new friend that they would welcome to their new living quarters.
The dogs that I met today had personalities that went from one end of the spectrum to the other. There were two large dogs under the desk of the person that was sitting next to me in the office. They sat there in silence for more than an hour. I didn't know they were there until I got ready to leave. I was told that they were a member of the shy bunch. They were rescued from an overcrowded environment of 60 dogs and they hadn't had much human contact in their lifetime.
I learned more about the difference between the Memphis Human Society and the Memphis Animal Shelter. In simple terms, the Memphis Human Society protects animals, like the two shy dogs, from people. The MHS takes in a greater number of rescued animals and injured animals and does not euthanize animals for time or space. The Memphis Animal Shelter, more or less, protects people from animals in picking up strays. They will euthanize animals because their shelter maybe overcrowded and because an animal has not been adopted after so long.  Today I met animals that had been at the MHS for months and several years in some cases.
Though I didn't take anyone home today, I did make some of the most adorable friends!
Thank you for reading! Like what you read? With more than 10 years experience, Cristalynne Dupree is searching for a job where she will use her marketing, public relations and communications skill to coordinate strategies and tactics that will reach and engage the organization's target audience.  Contact her at 1225Cristalynne@gmail.com or jobleads@volunteerodyssey.com.
———————————————————————————————————————————
———————————————————————————————————————————
If you like our work, please donate to keep it going.

Want the insider story and more pictures? Connect with us on Facebook and Twitter!
Looking for great volunteer opportunities in Memphis? Check out our calendar of volunteer opportunities.
———–———————————————————————————————————