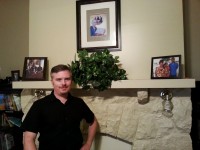 My final assignment for my Volunteer Odyssey was to visit the Dorothy Day House of Hospitality, a shelter for homeless families located on Poplar Ave. At the house, I met Sister Maureen, the executive director of the Dorothy Day House, along with some members of the families currently residing there. We had coffee and delicious lemon cake while Sister Maureen told me all about the shelter.
When families become homeless they often get split up, with different members going to different shelters. Some shelters will only take adult men while others take only women, adults and children. Boys who are not yet adults are often left with nowhere to go. The Dorothy Day House was founded with the purpose of keeping homeless families intact while they get back on their feet.
The shelter is named for Dorothy Day, who during the Great Depression, founded the Catholic Worker Movement, a volunteer organization which served the poor and homeless. There are many Dorothy Day Houses in the US and abroad, but they are unaffiliated and independent of each other, each serving its own community as best it can. The Dorothy Day House of Hospitality here in Memphis acquired its house in 2004, and after extensive renovation opened in 2006. They have plans of expanding and opening more houses here in Memphis.
The shelter does not receive any funding from the City or any religious organization. They depend entirely on private donations. Sister Maureen explained to me that this allows them to be free from any externally imposed restrictions about who they can give shelter to and how long they are allowed to stay.
The Dorothy Day House has the capacity to house three families at a time. Every family goes through a screening process to determine if they can be best helped by the Dorothy Day House and if they would get along well with the other families living there. If they are accepted, the staff of the Dorothy Day House work with the families to set goals to get them back into their own home. The families stay as long as they need to as long as they are working to meet their goals.
While visiting there I met Taylor, the father of one of the families. He recently found a job working at an upscale restaurant here in Memphis. His son, Justice, is a big fan of Spider-Man. I also met Caitlin, a teenager whom Sister Maureen described as a great influence on the other children living in the house. She always starts her homework immediately after arriving back from school, whereupon the other children gather around her at a table and do their homework.
After the coffee and cake, Sister Maureen gave me a tour of the ground floor. There is a large kitchen, a dining room, living room, and a playroom that doubles as a computer room, where the adults can go online and apply for jobs. On the tour, I was particularly interested in a picture of Dorothy Day that hangs above the fireplace in the dining room. It is done in the style of a medieval illuminated manuscript, which is why it caught my attention. The picture was donated to the shelter by someone who actually knew Dorothy Day, had opened several Dorothy Day shelters around the world, and had come to Memphis to help train the staff at the shelter here.
All the furniture in the Dorothy Day House was donated, and they have storage units full of more donated furniture and household goods. When families are able to move out of the Dorothy Day House and into their own home, they often receive furniture from the Dorothy Day House so that they won't be moving into a bare house or apartment. The staff at the shelter continue their relationships with those families once they move out, to do all they can to ensure their success.
Donating furniture is only one way people can help out the Dorothy Day House of Hospitality. In addition to accepting financial contributions, the shelter is always looking for volunteers to help out with things like house maintenance and yard work, cooking meals, childcare, and assisting with fundraisers. They are also very flexible regarding volunteers' ability to contribute. I let Sister Maureen know that I am interested in helping tutor residents.
Driving home from the shelter, I realized that my Volunteer Odyssey week was now over. Of course that doesn't mean my volunteering is over. I definitely intend to return to the places I've been blogging about this past week.
Thank you for reading! I'm searching for a job as an historical consultant, researcher or educator. If you know of a great fit, please send it our way: jobleads@volunteerodyssey.com.
Cheers,
Michael
My profile pages:
LinkedIn
Academia.edu
—————————————————————————————————————————————
If you like our work, please consider making a contribution to keep it going!
Want the insider story and more pictures? Connect with us on https://www.facebook.com/VolunteerOdysseyand Twitter!
—————————————————————————————————————————————
—————————————————————————————————————————————