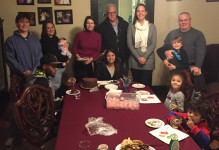 For the final night of my Volunteer Odyssey week, I had a bit of pre-work to do. I would be headed to the Dorothy Day House of Hospitality for an evening gathering, and they had asked that I bring "a simple dessert." Based on this single detail, I guessed that this night would be about more than doing volunteer work for a worthy organization. If people were making food for one another, it would be about fellowship.
When I left Atlanta and moved to rural Arkansas a little over seven years ago, I had no idea how important connecting with my new community would become. In a big city, a person could almost always find some activity to temporarily distract them from feelings of loneliness and isolation. In the Delta, such distractions were rarely found. As I looked for opportunities to build relationships in my new town, I quickly learned that connecting with others often involved food. After years of attending potluck suppers with my colleagues and neighbors, I began to count the breaking of bread with others as an act of communion.
When I arrived at the Dorothy Day House with my offering of mini-cupcakes, volunteer coordinator Genevieve Spears informed me that we would be celebrating a birthday for one of the residents. Other volunteers arrived shortly after I did. One couple brought a homemade chocolate layer cake, and a family of four showed up with all of the necessary ingredients for a serious Christmas cookie-decorating session. When the birthday girl, Adriana, and her family came in after a day out, we gathered in the living room of the house for a short prayer service.
After we prayed for the house and its occupants, each other, and our community, we adjourned to the dining room to enjoy the desserts spread out on the table. The children occupied themselves with decorating cookies while the adults looked on and took turns holding Adriana's beautiful one month-old baby. Even as the staff and volunteers at the Dorothy Day House strive to keep families experiencing homelessness together, they also work to build a bigger family composed of all who come in contact with the organization. There seemed to be no agenda for this evening beyond fellowship with one another. Where some volunteer scenarios demand months of planning and funding and recruitment, others call for simple acts of human connection. I felt gratified to end my week on such an intimate note.
Find out more about volunteer opportunities at the Dorothy Day House of Hospitality at www.dorothydaymemphis.org/volunteer.