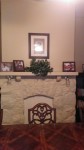 I do not know if I could ever look someone in the eye who has nowhere else to go and tell them I cannot help them. This is what Sister Maureen does on a daily basis; the day before my visit she turned down 5 families. Sister Maureen is the heart and soul of The Dorothy Day House. As I sat and listened to Sister Maureen discuss all that the organization does for the city of Memphis, I was filled with awe, compassion, sadness, and was on the verge of tears multiple times. Listening to her recount how many families she has to turn away made my heart sink and my eyes well with tears. Sister Maureen shared with me how homeless families are the invisible population. You rarely, if ever, will see a homeless family out at night, because they are trying to remain unseen. If they are seen and confirm they are homeless, their children will be taken away.  Sister Maureen says on any given night there are between 100 and 200 homeless families, in Memphis. Some of these families are without a home because of a traumatic event, such as sudden loss of work or a house fire; others are in these circumstances because of generational poverty. Either way, these families are under much stress and want desperately to provide for their spouse or children, but do not have the means.
I am glad to know that the Dorothy Day House of Hospitality exists and is committed to keeping family units together. There are over 150 Dorothy Day Houses of Hospitality; each are independently run and funded. These houses receive no government or state funding, and are solely sustained on donations. The Dorothy Day House of Hospitality provides temporary housing and support services for homeless families throughout Memphis. With the help of local agencies, staff, and volunteers, the Dorothy Day House provides families with a safe environment, and the means to re-establish their independence. Throughout the family's stay, they receive assistance with education guidance, parenting skills, employment counseling, transportation, child care referrals, budgeting advice, and access to sources of permanent housing. The Dorothy Day House of Hospitality works with each family to set personal goals and make sure that each family is continually working toward those goals. The staff also stay in close contact with the families after they leave the Dorothy Day House in order to assure they are able to maintain their independence. I will end with a quote from Dorothy Day that truly expresses how my heart feels after my time spent at the Dorothy Day House:
"What we would like to do is change the world-make it a little simpler for people to feed, clothe, and shelter themselves as God intended for them to do. And, by fighting for better conditions, by crying out unceasingly for the rights of the workers, of the poor, of the destitute…we can, to a certain extent, change the world; we can work for the oasis, the little cell of joy and peace in a harried world. We can throw our pebble in the pond and be confident that its ever widening circle will reach around the world. We repeat, there is nothing that we can do but love, and, dear God, please enlarge our hearts to love each other, to love our neighbor, to love our enemy as well as our friend."
Thank you for reading! I'm searching for a job as an educator to children and adults with special needs. If you know of a great fit, please send it our way: Mail to jobleads@volunteerodyssey.com or Leweaver0428@gmail.com
———————————————————————————————————————————
If you like our work, please consider making a contribution to keep it going!
Want the insider story and more pictures? Connect with us on Facebook and Twitter!
———————————————————————————————————————————
———————————————————————————————————————————