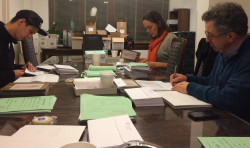 Upon my arrival at Church Health tonight, volunteer coordinator Rebekah Heacock presented me with two options for helping with their annual Christmas card fundraising program. The first option was to hand write the cards and address the corresponding envelopes. I briefly described the quality of my penmanship with a few colorful adjectives, which seemed to settle the matter immediately. Rather than spoiling perfectly good Christmas cards with my indecipherable scrawl, I would be matching completed cards and envelopes to a list of names and addresses to check for errors. This turn of events really couldn't have worked out better, as I have a deep and abiding love of proofreading.
Development staff member Ken Hall arrived shortly thereafter with refreshments. A small group of us snacked and worked through the evening, making the kind of light, fragmented conversation that happens when people try to talk while simultaneously focusing on a task. The topic frequently came back around to Church Health's imminent move to the Crosstown Concourse in early 2017. Their excitement was about more than just the increase in space. Church Health has been spread out in over a dozen different buildings up until this point, and all of their facilities and programs will now be housed under one roof.
Time seemed to pass quickly, as it often does for me when I am poring over a text in search of a misspelled name or forgotten ZIP code. I triumphantly announced the few errors I found and even permitted myself to re-address one envelope (very, very carefully). Mostly, I marveled at the variety of destinations for all of the cards. Many would go to people in Memphis, while others were headed to Florida, New York, and California. I wondered how many of the people receiving these cards know about the work Church Health does in Memphis for our uninsured community members. I hoped they would understand that the cards they received represented a small portion of the funds necessary for this organization to continue providing those services and expand into their magnificent new facility.
With Christmas only 10 days away, I recalled that I still had presents to procure for my own friends and family. I regretted that I hadn't been savvy enough to order Christmas cards that would double as gifts and also be mailed for me. Rather than waste energy scolding myself for poor holiday shopping skills and lousy handwriting, however, I reminded myself that I had an immediate opportunity to do something to help make a difference. I had hundreds of cards in front of me representing thousands of dollars in donations to an organization that literally saves people's lives, so I turned back to my list to do what I do best.
Find out more about volunteering with Church Health by visiting www.churchhealthcenter.org/volunteer. For additional information about their move to the Crosstown Concourse, view their video online.