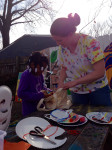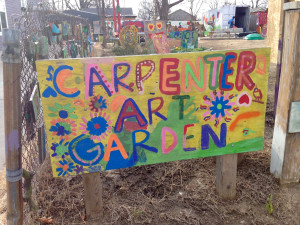 The second day of my Odyssey Week made me flashback to fun summers at camp! At the Carpenter Art Garden, children are invited to explore and discover new things through ongoing art and garden projects. This once empty lot serves as a wonderful meeting spot for the children and adults in Binghampton, a neighborhood lacking in safe community spaces. In addition to the garden, they offer tutoring, small group art lessons, a studio space, and after school clubs every day at their Purple House. The organization hopes to acquire additional property for expansion and to add an indoor workshop. While exploring the importance of creative expression, I also gained valuable insight into how collaboration can be a powerful tool.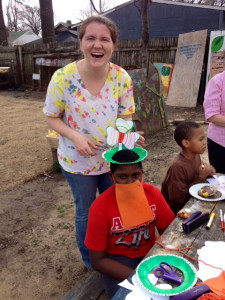 In honor of St. Patrick's Day, the children constructed rainbows attached to pots of gold and leprechaun beards and hats for the look o' the Irish. Each piece was unique – and that's why I love art. Art and creativity play such important roles in the human experience, helping people not only respect themselves but also others. In Carpenter Art Garden's mission statement, they mention the desire to promote each child's creative potential and self-worth through art. I could see that the children have the freedom to express themselves and build upon their strengths. While Destyne colored her leprechaun hat green, Chinita didn't hesitate to use all of the colors of the rainbow. I appreciate how the Carpenter Art Garden celebrates individualism and diversity through their projects.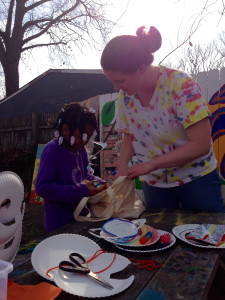 I was really looking forward to a crafty afternoon (a.k.a. crafternoon) at the art garden. Art has helped me make meaningful connections with others, as well as, observe and describe the world around me. When I was a summer camp counselor, I enjoyed organizing and managing art activities and sharing my love for self-expression. I've learned through my mom's teaching career in music how the arts can have a profound effect on children's development. Studies have shown that children can develop important thinking, problem-solving, and language skills through creative activities. Though arts programs are often the first to go in school districts' budget cuts, I'm happy that we have organizations like the Carpenter Art Garden to step in and make up for the deficit in arts programming. The garden is a unique place that offers opportunities for all children to learn and engage. It's hard to believe that this space of hope and opportunity was once an abandoned lot! My afternoon with the children and volunteers at the art garden reaffirmed everything I knew about the benefits of the arts and reminded me that so much can be achieved through collaborative efforts. As they say in the garden, "Teamwork makes the dream work!
If you like our work, please DONATE to keep it going!
---
Want the insider story and more pictures? Connect with us on Facebook and Twitter!
Looking for great volunteer opportunities in Memphis? Check out our calendar of volunteer opportunities.