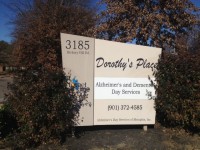 Friends, I'm not going to lie, when I woke up this morning I was pretty tuckered out. It has been a long week of volunteering. I really didn't think I would be affected this way – a couple hours a day at a different spot? No problem! Boy was I wrong. The stories I've heard, the people I've met and the love that I've been putting into everyday has caught up with me. That coupled with a slightly irrational apprehension towards my location today: Dorothy's Place.
Dorothy's Place is a part of the Alzheimer's Day Services of Memphis, a non-profit 501(c)3 that provides day services for members of the Memphis community affected with an aspect of dementia. Dorothy's Places provides extremely affordable, in comparison with hospice or hospital care, and inclusive activities for their "friends." Friends is the term used for those that come to Dorothy's Place. The function of the center is to enhance the quality of life and to recognize their capabilities, not disabilities. Development Director, Jon Burchfield, puts it as sustaining the dignity of their friends, who are, after all, our elders. Even as I was talking to Jon and receiving all this information, I felt my nerves. How was I going to cope if someone asked me if I was their niece? Was I going to be awkward and mess up? Was this just going to be too sad?
Now this is something that my friends and family will never believe I am saying. I loved being proven wrong. My time at Dorothy's Place and the friends that I have helped alter my perspective of people with dementia.
Small disclaimer: I did a pretty poor job with my photographs today. I got really caught up with time at Dorothy's Place and the HIPPA requirements not to show friend's faces. Apologies.
Prior to meeting Jon and getting a fantastic education about dementia, I received a joyful greeting from Tanya. She mans the front desk and so much more – she provides sunshine and laughter for everyone who walks in, that is, if she lets you in.
Following my overview of the program, I was shown around the facility, which is beautiful. Everything is painted with beautiful murals not only to make the facility more aesthetically pleasing but also with great intent to guide friends around the facility with walking paths and signs above each room and alcove. I was immediately introduced to Norrell (a personal care assistant), Ms. Greta and Ms. Ellen. We were tasked with making sugar cookies that would be later given to the firefighters and policeman as a thank you. Even with my nerves, I was immediately put at ease by Ms. Greta.
We dove right into those cookies as she regaled me with stories of her childhood and how her mother taught her how to cook and bake. It took us a couple tries to get the dough consistency just right but she and I taste tested for quality control. We cut Christmas trees, reindeer and snowmen that we would later decorate with icing.
Post cookie making, I helped with jingo time, a bingo style game, and exercise time. I was not only impressed with the clarity that the friends possessed and the relentless energy of all the personal care assistants that were there.  They are tireless. They know the idiosyncrasies and particularities of each friend all while being incredibly relaxed within those interactions.
Everyone that works at Dorothy's Place is amazing. Not only are they great with the friends but their energy knows no bounds – take a look at the schedule, it's packed! I am so happy I got the opportunity to go to Dorothy's Place and meet the friends, personal care assistants and staff. Although I was there with the idea that I would help to have a positive affect on their lives, I think the role was really reversed. They helped to not only prove me wrong but also changed my outlook completely.
Thank you for being a friend.
Catch you on the next safari stop.
Love,
Ari
Thank you for reading! I'm searching for a job in community outreach or partnerships position at a non-profit organization. If you know of a great fit, please send it our way: 
jobleads@volunteerodyssey.com
.
—————————————————————————————————————————————————
If you like our work, please consider making a 
contribution
 to keep it going!
——————————————————————————————————————————————————
——————————————————————————————————————————————————