Volunteer Odyssey
Our mission is to develop a pathway to volunteering that enriches our lives and our communities.
We have multiple programs to kick start your volunteer journey:
Job Seekers
The job seekers program is specifically geared for job-seeking professionals in the greater Memphis area. We're looking for people who already have an interest in volunteering, who have good personal and written communication skills, and are looking for a way to stand out on the job market. Email us: info@volunteerodyssey.com
How much time does it take?
During the actual Odyssey Week this is a full time job – bloggers spend about 4-5 hours volunteering/commuting and another 3-4 hours writing their blogs and documenting the experiences on social media. There are several hours of prep leading up to the experience (like writing your bio for the Meet our Bloggers page and writing your prelude) and several more things afterward (like writing your epilogue).
Does it cost anything to participate?
We use a pay-what-you can model in combination with a crowd funding campaign. Some people are more strapped for cash than others – we get that! Some people have a little more leeway with what they can give.  We work with each of our participants to find a number that's realistic. We want this opportunity to be available to every job seeker regardless of their financial situation.
Where will I volunteer?
We'll customize all of your volunteer opportunities to find things that fit your interests! Love puppies? Great! Allergic to cats? No problem. What do you love? Cooking, poverty, exercise, arts, sports, kids, crafts special needs, photography, animals, immigration, homelessness, kids, language, culture, furniture refurbishing, indie film, costumes, music, farming, food deserts, underwater basket weaving. We'll try to help you find it! Also, we'll only send you to places that we know and love. We'll meet their volunteer coordinator, try it out ourselves and scope it out to make sure it's a great experience for you.
Want to see it in action? Check out our Facebook Page and blogs from our job seekers.
Do you have more questions? Send them our way! Email us at info@volunteerodyssey.com

Corporate Teams
We now offer programs for corporate teams to volunteer.  Volunteer experiences are great for the community, but they're also beneficial to the corporate group. These experiences encourage team building and facilitate employee engagement. We'll work with your team to help you find the right spot to fit your needs.
To help you promote and remember your experience, our Corporate Volunteer Odyssey Package also includes options for a video of your volunteer event and shirts for the team.
Ready to get started? Email Sarah Petschonek: sarah@volunteerodyssey.com
VolunCheers
Join us for our volunteer happy hour – VolunCheers! Each month, we'll take you to a different non-profit. Help with a simple task, sample great drinks, and make some new friends.
VolunCheers is an easy way to fit volunteering into your busy schedule: once a month, for 1 ½ hours. Whether you come to every VolunCheers or it is your first time, come down and make new friends! It's a great way to connect with other young professionals interested in volunteering.  Upcoming VolunCheers Dates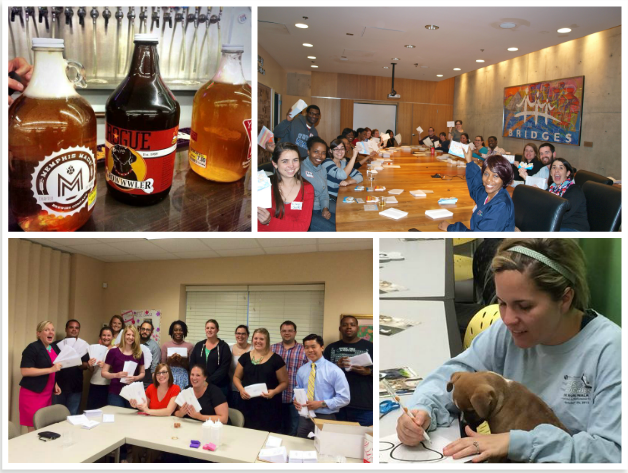 Learn more about our volunteer opportunities. Sign up for our newsletter: