I have probably driven past the Dorothy Day House of Hospitality at least once a week since I moved to Memphis. I'm sure I noticed the 100-year old house at least once, but I had no idea what a truly special place it is.
Tonight I volunteered with Tracy Burgess, the Fundraising and Volunteer Coordinator, to set up for their annual Soup Supper at the Cathedral of the Immaculate Conception. The Soup Supper is a chance for volunteers, donors and friends of the Dorothy Day House of Hospitality to meet and share stories. One woman told me that the volunteers don't always cross paths, which makes the dinner a chance to get to know others who are passionate about the organization.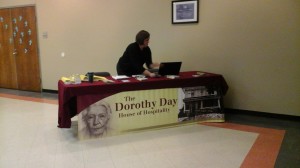 Tracy Burgess setting up.
My job was fairly easy tonight – moving tables and chairs, unfolding tablecloths, setting out flyers and getting to know new people. In fact, the whole set up took about 20 minutes because of the great teamwork.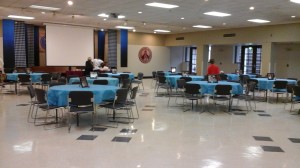 Setting up for dinner.
Since we finished our set up so quickly, I had the opportunity to talk to Tracy more about the Dorothy Day House. Did you know that every night in Memphis about 149 families are living on the streets or in unsuitable conditions (like their cars)? Many of us might think that the easy, short term solution would be to find a shelter, at least for the night. What I did not know is that most shelters require an application and will split up families if they are allowed to stay. Dorothy Day House of Hospitality is one of two shelters in Memphis that keeps families together. They accept married couples, families and single parents as well as preteen and teenage boys. I had no idea that on top of all the problems that have led to a family's homelessness, they also have to worry about being split up when turning to shelters. Keeping families together is just one of the many reasons that the organization is so special.
Dorothy Day House can house up to three families at a time and the organization's staff works closely with the families to help them get back on their feet. The families can stay for as long as they need while the work toward their goals and find stability in their lives. As Tracy described the organization and all of the special things that they do, she humbly summed up with "It's really just people helping people."
I took a moment to look around the room as it began to fill up with people who pour their passion and their love into the Dorothy Day House. There seemed to be people from all walks of life filling the tables and talking to one another. I know that there are some people in the world who don't take the time to help others out, and here was a whole room filled with people who spend their lives helping others.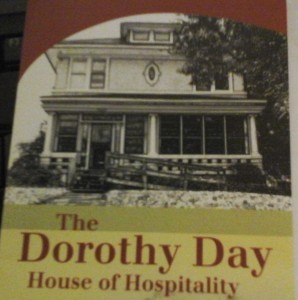 Before I left the event, Tracy invited me to stop by the Dorothy Day House one night to meet the families and some of the other volunteers. I am excited to meet more of the wonderful volunteers and get to know some of the families they help.
If you like our work, please DONATE to keep it going!
---
Want the insider story and more pictures? Connect with us on Facebook and Twitter!
Looking for great volunteer opportunities in Memphis? Check out our calendar of volunteer opportunities.