Meredith DeLeeuw has created her own #VolunteerOdyssey in order to get to know Memphis better and give back to her new community. She'll be volunteering with 8 nonprofits and sharing her experience through her blog. 
On Day 8 she volunteered with Shelby Farms. Check out her story below!
---
The last day of my volunteer odyssey was bitter sweet.  How was I already on my last day?  The last 8 days had gone by w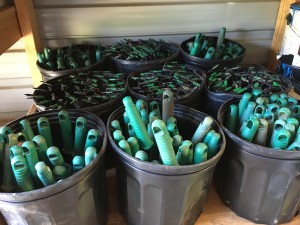 ay too fast and I wasn't ready for it to end.  Luckily, I got to mend my spirits at one of my favorite spots in Memphis, Shelby Farms.  Most people in Memphis know about Shelby Farms, but forthose of you that are not from here or have recently moved here, Shelby Farms is one of the largest urban parks in the United States.  The park contains more than 40 miles of paved and unpaved trails winding through its 4,500 acres.  The trails are great for walking, running, biking, or hiking.  They a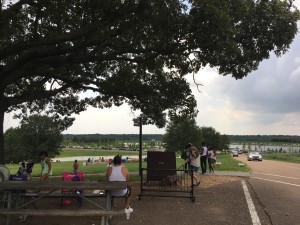 lso have over 20 bodies of water, perfect for fishing, kayaking, or paddle boating.  You can also find a horse stable, a ropes course, and a huge dog park.  Shelby Farms park is managed by the Shelby Farms Conservatory, a non-profit that runs the park as well as the Greenline.  The Shelby Farms Greenline is a 10 mile paved urban trail that connects MidtownMemphis to Shelby Farms and even out to Cordova.  It is one of my favorite things about Memphis!  I got very lucky that we found a house so close to one of the entrances.  My husband and I love to bike on the shaded trails.  It is also perfect for taking our pups for a run.  If you have not experienced Shelby Farms or the Greenline, you are missing out on something spectacular!
Shelby Farms frequently hosts events at the park.  Some of the amazing staff at Shelby Farms reached out to me and asked if I would be willing to help with their Total Eclipse at the Park event as well as volunteer in their gardens.  I owe a lot of my journey to Natalie Wilson with Shelby Farms, so I was thrilled to give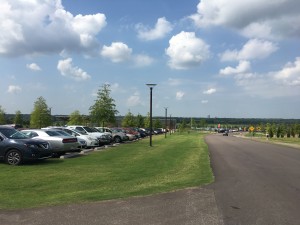 back in any way I could!  Total Eclipse at the Park was a solar eclipse watching party that included educational talks, food trucks, and more.  I arrived mid-morning for the eclipse event and met with Shelby Farms staff.  They explained that I would be helping park cars for the event. I put on my yellow traffic vest and off I went.  I started by directing cars up to the overflow parking lot.  Within 30 minutes, it became very obvious that this event was going to be much bigger than expected.  I moved down the way and started helping the rest of the staff park cars.  I cannot begin to explain how many cars poured into Shelby Farms that day.  Every time we thought it was winding down, a huge rush would show up.  We parked cars all the way up to the time of the eclipse.  Luckily, we had the help of the Shelby County Sheriff's office and many of the Shelby Farms staff.  We were crazy busy, but I really enjoyed my time at Total Eclipse at the Park.  Everyone I met, from park rangers to park goers, reminded me why I have fallen for this town.  We estimated over 10,000 people showed up that day!  How crazy is that?  I'm so glad that Memphians enjoy and support Shelby Farms wholeheartedly!
My odyssey came full circle on my last day.  The first day of my journey started in the gardens of Memphis Tilth, and my last day started in the gardens of Shelby Farms.  Shelby Farms uses their gardens primarily for community education purposes.  I met up with Jasmeen Plummer, the Shelby Farms Greenline Gardens Intern, and we got to work.  We started by pulling weeds in the 26 beautifu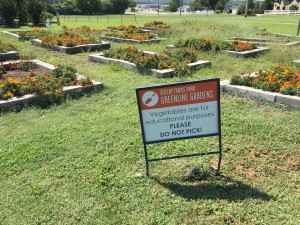 l raised garden beds, currently filled with beautiful flowers.  We then transitioned to organizing the tool shed.  While we organized, we talked about life, dreams, volunteering, and more. Jasmeen is a senior at the University ofMemphis, who wants to open her own tea shop.  How exciting is that?  She loves gardening and learning all she can about the horticulture of tea.  Her story made my food science heart swoon!  I cannot wait until the day that I get to buy some tea from her.  I shared my experiences of my volunteer odyssey journey so far.  She was so genuinely interested in every non-profit I had volunteered for.  She has always wanted to volunteer, but she did not know where to start.  I told her all about Volunteer Odyssey and how she could use the Volunteer Compass to get started.  I hope I inspired her to reach out and begin volunteering.  I could not have had a more perfect last day.  Spending the day with Jasmeen warmed my heart.  I am beginning to truly see how much my journey affected not only me, but everyone around me.  
Shelby Farms always needs volunteers for their extremely popular events and for other activities in the park.  It is a great way to give back to our community and enjoy the beautiful outdoors at the same time!  A huge thank you goes out to all the Shelby Farms Conservatory staff, especially the programs coordinator Monique Stitts!  They welcomed me not once, but twice, with nothing but open arms and warm smiles.  They are all one of a kind!
On a personal note, the biggest of thank yous goes out to Natalie Wilson!  I cannot begin to fully explain my gratitude to you!  I am so incredibly glad that God put us together on that plane.  You have helped me find the fulfillment I had been missing.  You are such an inspiration.  I hope someday I can pay it forward and support someone else, as you have supported me.  I cannot wait to see where the rest of my journey leads me, but I know you will be there cheering me on!
Go be the light that inspires people to give back to their community!

---
If you'd like to volunteer at Shelby Farms like Meredith, visit https://serve.volunteerodyssey.com/group/120850-Shelby-Farms-Park