Today, I visited the Dorothy Day House in Midtown for my final day of volunteering. This small organization is the only one in Memphis that takes homeless families and keeps them together. The house currently can house three families at a time. They are expanding, and in the process of opening 4 more houses! When the new houses are open they will be able to house 15 families.
During my time spent there I talked with the two families currently living at Dorothy Day House. We talked about their jobs, homeschooling, and what they like to do for fun. All the children were running around playing, and smiling ear to ear. It made me incredibly happy to hear their contagious giggles echoing throughout the large house.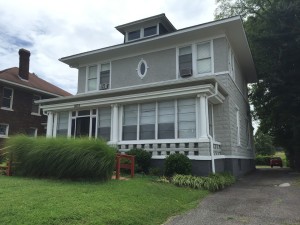 In the basement of the house they store food, toiletries, and other necessities that can really put a dent in someone's paycheck. Families that have stayed there in the past are welcome to all the materials whenever they need them. This is such an incredible resource for any family getting back on their feet. They also help families from the past furnish their homes, as well as with job placement.
Memphis has over 130 homeless people on the street every night, and Dorothy Day House is contributing so much to this community with their helping hands. I had such a great time chatting with everyone, and playing with the sweet little ones. I can't wait to visit one of their new houses within the year!