Meredith DeLeeuw has created her own #VolunteerOdyssey in order to get to know Memphis better and give back to her new community. She'll be volunteering with 8 nonprofits and sharing her experience through her blog. 
On Day 6 she volunteered with Southern Reins. Check out her story below!
---
Day six of my volunteer odyssey brought me to a little slice of heaven in northern Mississippi.  Horses,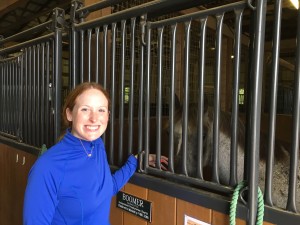 wide open blue sky, green pastures, and miracles.  What more could a person ask for?  Founded in 2015, Southern Reins is an equine therapy center serving individuals with physical, cognitive, and emotional disabilities.  Southern Reins offers therapeutic riding, horsemanship lessons, hippotherapy, and equine assisted psychotherapy.  They serve children and adults from Tennessee, Mississippi, and Arkansas.  All sessions are conducted by certified therapists, PATH certified riding instructors, or mental health professionals.  The also just started a new program, Equine Services For Heroes, which serves veterans as well as first responders who have been injured in service to our country.  All of these programs offer physical, mental, and social benefits to participants.  In the two short hours I observed, it was clear how much a horse can help a person with a disability.
The first session I observed was a riding session.  During these sessions, a part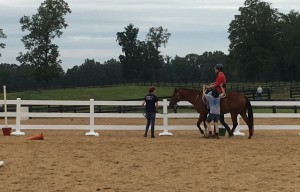 icipant does all their therapy mounted on the horse.  The motion of a horse's walk mimics the motion of our own walk.  It takes a lot of core strength just to stay in the center of the horse.  Each team is comprised of one horse leader and two sidewalkers.  The horse leader's job is to control the horse at all time and yet be very aware of what is going on in the surroundings.  They are responsible to ensure the safety of the horse, equipment, and rider.  The sidewalker's job is to provide physical and emotional support to the rider.  Their job can vary from having a complete hold on the participant to having very little, if any, physical support.  It was the first day of a new ten-week session, so the teams were just getting to know each other.  My favorite moment of the day was seeing and hearing one of the participant's true excitement at the thought of getting back on the horse.  He was so overjoyed and kept exclaiming "Walk on! Walk on!" as the volunteers readied his horse to be mounted.  His happiness and joy was so palpable it spread to every single person there.  Once mounted, he instantly settled and got straight to work.  What a sight it was to watch the connection between each rider and their horse.
The second session I observed was a ground work session.  During these sessions, the participants work on emotional and phys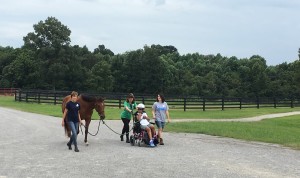 ical therapy by leading, brushing, and feeding the horses.  The volunteers assist the participants by helping to lead the horse and encouraging the individuals to pet or brush the horses.  Touching a horse provides a lot of sensory therapy for the participants.  The warmth of their breath and the softness of their hair provides a therapy like no other.  Horses are powerful beings, but they also have a kindness and an intuition about them.  These horses were so calm and loving towards each person.
Each volunteer I talked to repeated the same sentence to me, "We see miracles every day".  Wow, how powerful!  They all had different stories of how these horses have changed each participant's lives.  Some could barely sit on a horse, and now they can do a full hour session with very little help.  Some were non-verbal, and now will say "walk on" to the horse.  Some were deathly afraid of horses, and now readily feed them in their lap.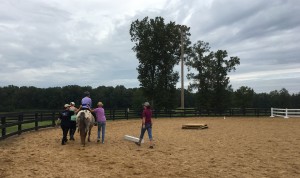 Do you want to witness miracles each time you volunteer?  Southern Reins needs a lot of volunteers, especially ones with time during the week.  Anyone can become a sidewalker by attending their training sessions.  Southern Reins is also in need of a lot more horse leaders.  Prior horse experience is needed and horse leaders must possess a basic understanding of horse behavior.  This is hard to come by, so if you have horse experience, Southern Reins would love to have you!  Southern Reins also provides scholarships to participants who cannot afford the therapy session.  A wonderful gift would be to sponsor a rider!  You can also sponsor a horse for the session! A big thank you goes out to all the Southern Reins staff for having us out to see all the wonderful things they are doing!
This piece of heaven really is creating miracles in motion!
---
If you'd like to volunteer at Souther Reins like Meredith, go to https://serve.volunteerodyssey.com/group/138219-Southern-Reins-Center-for-Equine-Therapy