Meredith DeLeeuw has created her own #VolunteerOdyssey in order to get to know Memphis better and give back to her new community. She'll be volunteering with 8 nonprofits and sharing her experience through her blog. 
On Day 3 she volunteered with Memphis Botanic Garden. Check out her story below!
---
On my third day of my volunteer journey, I found myself surrounded by nature at the Memphis Botanic Garden.  Bo
tanic gardens and arboretums are very near and dear to my heart!  My grandfather has a tree planted in his name at the Clinton, Iowa Arboretum.  Every Christmas memory I have as a kid involved going to the Huntsville Botanical Gardens to drive through the Galaxy of Lights.  My husband even proposed at the Dallas Arboretum and Botanical Gardens.  Needless to say, I was very excited for the opportunity to give back to the Memphis Botanic Garden.  The Memphis Botanic Garden comprises 96 acres with 28 specialty gardens.  The mission of the Memphis Botanic Gardens is to teach the next generation about nature and the world around them.  During the summer, the garden hosts Adventure Fridays, where volunteers teach children about many different topics involving the natural world.
Starting next month, the garden is hosting "Big Bugs", a traveling art exhibit of giant insect sculptures.  The exhibit is traveling all over the country and will be in Memphis for a couple of months.  Everyone who has seen the sculptures say it is a must see!  To promote this exhibit, all the Adventure Friday's revolved around different insects.  Ants were the topic of my Adventure Friday.  At first glanc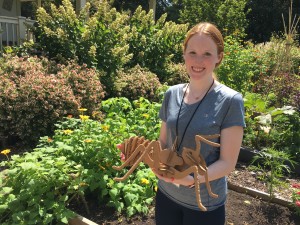 e, ants are not the most exciting insect out there.  They certainly do not garner the same response from kids as say a grasshopper or bees.  But ants are a vital part of our world!  (Except fire ants!  I am still not sure why those nasty things exist.)  Did you know that ants live on every continent except Antarctica?  They are extremely adaptable to nearly every climate.  I never realized how much I did not know about ants!  Our table included scientific books, pictures, even a large 3D printed paper model by the great people at International Paper.  All the kids enjoyed picking up the magnifying glass and looking at the different species of ants.  I know each child, and parent, came away with a lot more respect for ants!  It was great opportunity to get to interact with and teach the younger generations of Memphians.  Who knows, maybe we even inspired a child to become an entomologist!
After I was done teaching, Brianna (the wonderful volunteer manager) showed me more of their 96 acre facility.  Wow,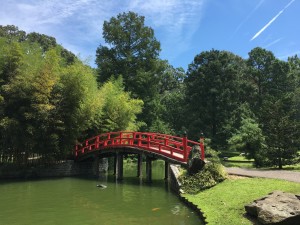 is all I can say!  Every area I explored was better than the next.  I especially loved the Japanese and hydrangea gardens.  There is an area of the botanic garden for everyone!  They also host a myriad of events for adults such as Live at the Garden, wine tastings, food truck garden parties, and more!
My day in nature could not have been more perfect, and for that I thank everyone at the Memphis Botanic Garden.  The Memphis Botanic Garden thrives off volunteer support!  They always need volunteers for children activities as well as special events at the garden.  You can also use your gardening skills to help the horticulture staff make the garden beautiful.  You might even get to feed the Koi if you ask nicely!
Go cultivate your life with at the Memphis Botanic Garden!
---
If you would like to volunteer at the Memphis Botanic Garden please visit
https://serve.volunteerodyssey.com/group/122786-Memphis-Botanic-Garden