Today, I went to the Carpenter Art Garden located in midtown Memphis. The garden is an amazing non-profit that offers a creative outlet for kids after school. Most of the schools in the surrounding area only offer sports teams and other athletic pursuits, which is what makes Carpenter necessary for kids interested in the arts or creative projects. The center's main priority is to give children an opportunity to get involved in their community in a positive way. They achieve this by giving the participants hands on activities, and a loving environment where they can flourish.
When I arrived at the center I was given a tour by the director of programs. It starts with a small purple house filled with paintbrushes, construction paper, hundreds of crayons, and any sort of crafting material o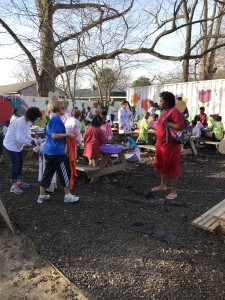 ne could desire. To the right of the building is the art garden, which is a beautiful collection of different art projects. A few houses down is their bike shed where young adults can take a 200-hour course in bike mechanics to give them skills for jobs in the area. A little further down the road lie 2 community vegetable gardens, and also an amazing tile mosaic lining what looked like 500 feet of the street.
This afternoon the weather was a fabulous 75 degrees, during this time I assisted the kids with two projects. They had the choice of painting or coloring different projects with heart themes. I sat with boys and girls; I enjoyed talking with them about their favorite music, the best parts of their day, and who would be their valentine this year. One boy named Fred told me that his Valentine this year would be him Mom. It made me happy to see his quick response when I asked. The craft that we were making was originally pieces of paper put together to make a 3D heart, but Fred had his own vision for it. He was so proud of his creation in the end, and seemed ecstatic about giving it to his mom in the near future.
The atmosphere of this place when it's full of people is very vibrant. All the kids laughing and smiling is extremely contagious. The option for kids to have this amazing outlet is vital in this community. Students in high school that used to come to the center as kids, still visit and hang-out nearby. Everyone in the community appreciates the space, and it only ta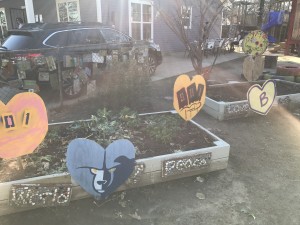 kes one look around to understand why.
Spending my day at Carpenter Art Center was a rewarding experience. I felt that while spending time with these kids, they were able to look up to me and everyone who is there to support them. Knowing that a place like this exists in Memphis which helps many kids experience a positive and supportive space, makes me happy. Carpenter Art Center is an amazing progressive space, and I hope to see their whole vision to integrate more creative thinking in the community grow for years to come!