Day 5 of my Volunteer Odyssey was spent with Catholic Charities of West Tennessee (CCWTN). They are one of the largest nonprofit, multi-social service providers in the Mid-south. They have five main ways of community outreach; Food pantry, immigration services, homeless shelter, counseling, emergency services programs, and a new Veterans program. I had the pleasure of meeting Al, who's a volunteer for CCWTN. He was very energetic and excited to tell me all about CCWTN. First we introduced ourselves, and then he gave me a tour of their office. He was very enthusiastic about the organization and explained how you never know what's in store for your future or how your skills will be used. Al is a veteran and he never expected he would be a volunteer and with an organization such as CCWTN.
I helped Al load the CCWTN van with food we were to distribute to families. Be on the lookout for their van – it's really cool, great pictures, and partly written in Spanish. On this day, we were to provide food for 21 families from a Jubilee school. Several other volunteers met us on site. The families we served seemed very happy and grateful for receiving the food. The majority of the families were Latino, so I was able to use a bit of my Spanish. The children were excited to receive candy, and the mothers (who made up the majority of individuals picking up the food) gave many thanks for CCWTN's help.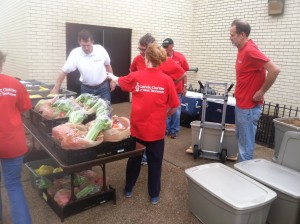 We're preparing grocery bags for families in need
I really enjoyed my volunteer experience with CCWTN.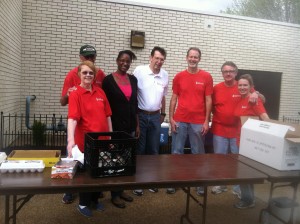 Teamwork!
Their programs are tailored to reach a broad range of individuals and the volunteers, who make up the majority of the "staff" since CCWTN has only three paid staff members, are giving people with really big hearts. My hope is that CCWTN continues to grow and reach many more people that may have been forgotten or difficult to reach.
—————————————————————————————————————————————
If you like our work, please consider making a donation to keep it going!
Want the insider story and more pictures? Connect with us on Facebook and Twitter!
—————————————————————————————————————————————