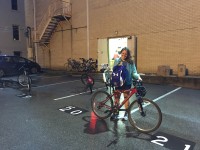 By Lulu Abdun, Summer Programs Associate at Volunteer Odyssey
Chicago girl in the 901. Kristin just recently moved to Memphis. Having the desire to get involved in her community, meet others, and give back, she attended Volunteer Odyssey's VolunCheers Minute Match event this past June. While at the event, she heard about the Urban Bicycle Food Ministry (UBFM) who bikes around town every Wednesday giving meals to those in need. She loved this idea of being active while giving back but was a bit taken aback because of her fear of biking. However, she spent some time thinking about it and decided to try it out. She says, "You cannot live your life in fear. Sometimes in order to make a difference in someone's life you need to conquer your own fears."
"You cannot live your life in fear."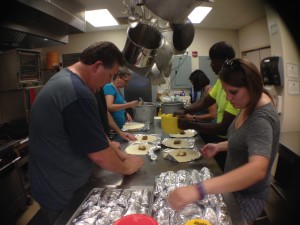 Every week she bikes with UBFM sharing her passion of giving back and her hope to change the world. Here is a story from one of the nights biking:
"One week I had such an emotional night riding my bike and I haven't been able to stop thinking about it since it occurred. Prior to riding it was pouring rain and began to thunder and lightning. I honestly didn't think we would be riding that day. I texted Ellen and asked and she responded with 'Of course, we are all-weather servants.' After we finished making burritos I stopped to grab my bike and one of the gentlemen I ride with Frank said, 'we ride no matter what the condition is outside, there is always a need on the street.' Here I was, being concerned about myself when there are people on the streets that cannot go inside because of the weather. After Frank said that to our group, a guy came up to us in a shirt that was soaking wet and he asked if we had a dry shirt. Frank went inside the building to get him a shirt, and I asked him if he would like a burrito or water. He politely said, 'no thank you; all I would like is a dry shirt.' At that point I could have broken down crying because that day between all my activities I changed my shirt four times. If my shirt got wet from running into my apartment building from the parking garage I would have changed my shirt to stay dry and this gentleman had nothing else to change into. I cannot begin to express how much that put into perceptive on next time I get annoyed with a shirt choice, there is someone who has it was worse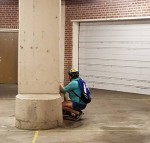 than you. We began to ride our bikes and at the end of the night we saw a young girl sitting alone and we decided to give her the food we had left in our backpacks. We pulled up to her and you could tell by her demeanor she was dealing with some type of traumatic situation. She was very hesitant to take the food; barely spoke to us and looked terrified. We asked her if she needed anything and she shook her head no. We told her we would be back with a bag full of stuff for her. Our group rode back to the church, and Frank and I decided to go back to deliver the bag. We thought it would be best if I delivered the bag alone. I slowly approached her, placed the bag next to her and kneeled next to her. I asked her what her name is, explained what was in the bag, who we were, why we were on bikes, when she can expect to see us again and if there was anything else we could do for her. She looked me in the eyes for the first time and said, 'no thank you.' I walked away and my heart broke. She was maybe 5 years younger than me and seeing her in that traumatic of a state, I wanted to help anyway I could, but as a social worker I knew I couldn't force help. There is not a day that has gone by that I don't think of her and our interaction. Every night the interactions we have are different, but they always leave your heart aching to be able to do more than give them a burrito."
When Kristin volunteers with UBFM, she "walks away from biking with a heavy heart" and the desire "to continue to make a difference."
Make a difference by conquering your fears. "Figure out what you are passionate about and volunteer with that population. Whether it is kids, adults, homelessness, cancer patients, etc., there is a place you can volunteer at that correlates with your passion," says Kristin. There's a volunteer opportunity out there for everyone.
"My goal in life is to change the world and volunteering is a great way to help me reach my goal."
Volunteering allows Kristin to make a difference in the world. Furthermore, her life's goal "is to change the world." Although passing out burritos on Wednesdays night won't solve world hunger, it is a small step to making hunger in the Memphis community less of a reality and "is going to allow hundreds of people the opportunity to not go to bed hungry."
Here are some tips she has for future and current volunteers: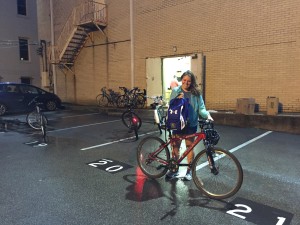 * Conquer a fear of yours if it means you will make a difference in someone's life.
* Get out of your comfort zone. Don't turn your head from someone who needs help. Everyone has a story, so take the time to listen to someone's story who you would normally not give a second of your time too.
*Do a small act of kindness to make this world a better place for all of us.
*LOVE YOUR NEIGHBORS including the ones on the street.
*Give someone the shirt off your back if it means their day or night will be that much better.