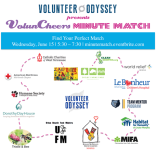 In 2015, Forbes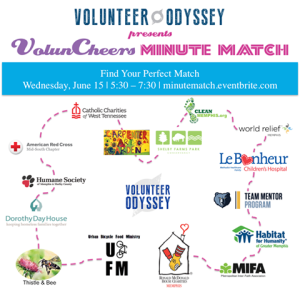 ranked Memphis as one of the top ten cities where it is easiest to make your mark; however as a city, we continue to fall behind in the ability to retain talented young professionals.  So how do we attract and retain this young talent and ensure that they are investing in 901?  One way is to provide these professionals with quality volunteer opportunities that allow them to make a positive impact in their community.
At Volunteer Odyssey, we want to help these emerging leaders in Memphis to make their mark and discover that perfect volunteer opportunity that makes them want to invest in our great city.
On Wednesday, June 15th, we are hosting VolunCheers Minute Match in order to get more people through Memphis connected with a cause and a organization they are passionate about and will continually want to volunteer with in the future.  This event is a speed dating event designed to help volunteers find their ideal volunteer opportunity in just 60 minutes. After visiting each non-profit, attendees will fill out a survey to determine which non-profit won them over for a second date.This is a great way for people to get to know what kind of opportunities are available to them in Memphis as well as get to know many other young professionals from around the city.  Tickets are $5 in advance, $10 at the door, which includes food and beer from Wiseacre Brewing Co.
Where will you make your mark?
Event Details:
When: Wednesday, June15th
Where: Emerge Memphis | 516 Tennessee St
Time: 5:30-7:30pm