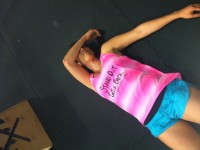 Seduced by flashing lights and bustling crowds, I have always wanted to move away to a bigger city. Skyscrapers and taxi cabs make me smile. This is how I have felt since I was a young girl. But volunteering in Memphis has caused me to fall in love with this city and makes me want to stay right here for a long time to come.
It's exciting to live here where there is such a large community of people trying to help their fellow Memphians. During my week with Volunteer Odyssey, I got to help the elderly, the immobile, the homeless and alone, adults with special needs, school-age children with their homework, people struggling to be and stay healthy, those who have lost their sight, and parents just trying to keep their families together. The number of hours I spent volunteering pales in comparison to those put in every day by the other volunteers I met.
This community is full of volunteers, people who show up monthly, weekly, or even daily, year in and year out (some readers at WYPL have been there for more than a decade), to combat whatever plagues us. One could look at all the need and become overwhelmed or give up, but the people of Memphis don't. As silly as it may sound to some, we really do grit. We really do grind.
I cannot say enough how much I loved this experience. I plan on continuing my involvement with several of the organizations that I visited. How could I not after compulsively visiting the ReStore so many times in one week? After hanging out with the Dorothy Day House residents and becoming honest-to-goodness friends with one of the moms? After seeing Clifton smile with pride while showing me SRVS? After tasting the delights of the Church Health Center kitchen?
I may even convince my family to get more involved in our community as well. Mom showed interest in the St. Mary's Church Soup Kitchen, and Dad wants to volunteer at SRVS. They can tell that I am happier volunteering. I always want to make a difference. Volunteers make me smile. I want to have a positive impact on the world, and while perhaps that means I'll have to leave for a bigger city somewhere, I know that I won't find a better one anywhere.