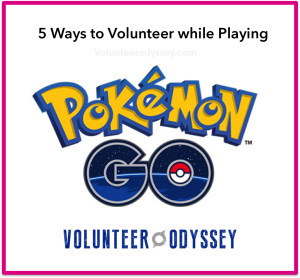 How much time do you spend searching looking for Pokémon? While you're at it, use your Poké Powers for good!
Volunteer Odyssey has 5 ways you can make an impact in your community while playing Pokémon. Talk about two birds one Poké Ball!
5 Ways to give back while hunting for Pokémon:
Donate a Poké Lure. Donate a lure at your local children's hospital so the kids can catch 'em while they get better! Thanks to your generosity, these kids can play from their hospital bed since they can't go catch Pokmon outside. In Memphis, Le Bonheur Children's Hospital would love to have you donate a Poké Lure for the kids. (Note: For obvious reasons you can't wander into a children's hospital! Drop your Poké Lure outside and be on your way! If you want to become a volunteer at Le Bonheur, email Timorie to get started)
Earn Real Money to Donate. As you wander the wild streets searching for Pokémon, use the Charity Miles app to raise money for St Jude Children's Research Hospital. Leave the app open while playing Pokémon Go and sponsors donate money to your charity for every mile you walk/run.
Clean the Sidewalks. While searching for those elusive Pokémon, you can pick up trash along your walk. You'll be making the city cleaner while also having fun. As with hunting Pokémon, please don't wander into traffic to grab a piece of littler. Use your noggin. If you're in Memphis, email Janet at Clean Memphis for great places to start.
Walk a Dog! There are tons of dogs that need to be walked at your local animal shelter, so why not help these pups get exercise since you'll be walking around town anyway. Just ask the shelter first if they have any "Pokédogs" (dogs that you are allowed to walk while searching for Pokémon) available to walk. Become a dog walker at Humane Society of Memphis and Shelby County or your local shelter. (Remember to keep yourself and the animal safe while playing!)
Tend a Garden. Visit your local garden or community park and help them to plant, pull weeds, or maintain the trails while catching Pokémon. There are bound to be tons of Pokémon rustling behind the leaves for you to find. In Memphis, email Irene to volunteer with Shelby Farms.
You can catch 'em all and give back at the same time! Start today by visiting our website or finding Volunteer Odyssey on Facebook.