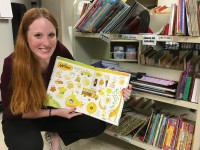 Meredith DeLeeuw has created her own #VolunteerOdyssey in order to get to know Memphis better and give back to her new community. She'll be volunteering with 8 nonprofits and sharing her experience through her blog. 
On Day 2 she volunteered with Read to Me at St. Jude. Check out her story below!
---
If you had asked me 6 months ago where St. Jude Hospital was located, I would have hem hawed and said multiple locations such as Washington D.C. or New York.  I was absolutely floored when I realized that the St. Jude Hospital that I saw on my first drive under the M bridge, was THE St. Jude.  Wow!  I would never have guessed it was only one hospital and that hospital was here in Memphis.  When I was picking my locations for my volunteer journey, I knew St. Jude had to be on there.  That's where the Read to Me at St. Jude program comes in.  This program was started by a longtime volunteer of St. Jude, Simone Meeks.  In fact, it was her 15-year anniversary with St. Jude the day I volunteered!  Congrats Simone!  She started this program with the knowledge that a lot of Memphians would love to volunteer at St. Jude, but they do not have the time to commit to multiple hours each week.  With Read to Me, a volunteer gives back once a month for an hour over their lunch break.  Each month, a few volunteers get the opportunity to greet children in the waiting rooms and help them pick out a book to either be read to or to take home.
I was overcome with the enormity of my experience from the first moment I drove into the St. Jude campus.  Here I was getting to volunteer for the children of St. Jude.  How many people are lucky enough to have the chance to say that?  I met up with Simone and we headed with the books cart to the waiting rooms.  The moment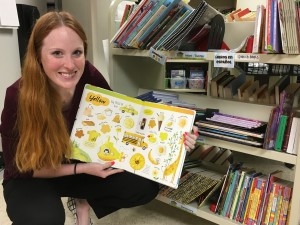 we walked into the first waiting room, all the children stopped what they were doing and curiously looked at what we were doing.  Most kids were more than happy to come up and pick a book off the cart.  We had all types of books for all ages and my favorite, coloring books!  I was so excited when my first child asked me to read a book to them.  The first book I read was about a little girl who ordered a unicorn, but got a goat.  I cannot begin to describe how adorable this book was and how much it made the patient smile.  The gratitude from the parents was almost as fantastic as the smiles from the children.  Throughout my hour, I got to read books, draw, talk about unicorns and superheroes, and play with all kinds of toys.  I hope that my small contribution helped take away their fear and nerves of being at the doctor, if only for an hour.  My only complaint is that I did not want to leave!
Read to Me is always looking for volunteers to help brighten a child's day!  It is a great way to use a little time to make a big difference.  They also need donations of new books for their book cart.  Each child gets to take a book home if they would like, so they are always in need of books, but they must be new.  A huge thank you goes out to Simone who so graciously gave me the chance to volunteer at St. Jude.  I am already counting down the days until I get to go back next month!
One hour does indeed make a difference!
---
If you'd like to volunteer for Read to Me at St. Jude like Meredith,
visit https://serve.volunteerodyssey.com/group/120805-Read-to-Me-at-St.-Jude