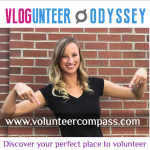 Discover your perfect place to volunteer in Memphis. Visit our VolunteerCompass and start today! 
---
Join Alexis on her vlogging tour of volunteer opportunities in Memphis. Up today: our very own, VolunCheers benefitting Shelby Farms Park!
Volunteer Odyssey's Vlog-unteering series will have a new video each week, so you can learn about great organizations in Memphis where you can volunteer. Our vlogger, Alexis Lynn, is excited to share her journey with you!
---
Hey guys!
Oftentimes we spend so much money going to dinner or grabbing drinks with our friends, but with this activity you can spend time with your friends, get free drinks and snacks, AND help out your community! For this event I brought my husband along and we had a great time spending time together while also helping out the great organization, Shelby Farms.
At this VolunCheers we made American flag pins to help Shelby Farms prepare for their upcoming Star-Spangled Celebration! This is an Independence Day celebration, taking place on July 1st, that will include an all-day music line up, family-friendly activities, and Tennessee's largest laser show!
If you want to go to the next VolunCheers event or volunteer in another way, go to VolunteerCompass.com!