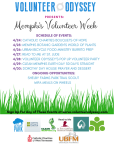 Make Your Mark during Memphis Volunteer Week
Join us April 24th – 30th for Memphis Volunteer Week. Come to one thing or come to everything! We'll be making burritos, hosting a Pop Up Volunteer Party, making flower bouquets for seniors, reading to kids, and more. Choose your adventure and we'll see you there.
Schedule of Volunteer Events
Monday | April 24th
Time: 9:00 am – 10:30 am
Event: Bouquets of Hope with Catholic Charities
Description: Create bundles of flowers for seniors in nursing homes.




Tuesday | April 25th
Time: 8:30 am – 12:45 pm
Event: World of Plants with Memphis Botanic Garden
Description: Work at a "discovery station" and teach kids about plants around the world.


Wednesday | April 26th
Time: 6:00 – 7:00 pm
Event: Burrito Prep with Urban Bicycle Food Ministry
Description: Come make burritos that we'll deliver by bike to the hungry people in downtown Memphis.


Thursday | April 27th
Time: 12:00 – 1:00 pm
Event: Read to Me at St Jude
Description: Read to the kids at St. Jude during your lunch break. Spanish speaker a plus!


Friday | April 28th
Time: 11:00 – 1:00 (Pop in anytime)
Event: Pop Up Volunteer Party with Volunteer Odyssey
Description: Pop in and volunteer! We have projects as short as 60 seconds.


Saturday | April 29th
Time: 9:00 am  – 12:00 pm
Event: Shine the Line with Clean Memphis
Description: Beautify a neighborhood. Great for groups!


Sunday | April 30th
Time: 6:00 pm – 7:00 pm
Event: Prayer & Dessert with Dorothy Day House
Description: Everyone welcome! Dorothy Day House keeps homeless families together. Come meet the moms, dads, and kids that are building a future and working towards a new home.


On-going Volunteer Opportunities
If you can't join us for one of these, you can still get involved! Here are two great options:
1) Become a Trail Scout with Shelby Farms | Learn more
2) Deliver Meals on Wheels with MIFA | Learn more
Explore All Opportunities
Visit our VolunteerCompass and discover your perfect place to volunteer.