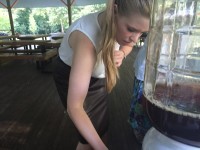 By Lulu Abdun, Summer Programs Associate at Volunteer Odyssey
As an MBA Student, Joslyn is always looking to get involved in the Memphis community. In undergrad, there were always volunteer opportunities available; however, it has become increasingly difficult for Joslyn to find meaningful ways to volunteer.
Back in June, Joslyn attended Volunteer Odyssey's Minute Match event as a representative of Christian Brothers University's MBA team, a sponsor of the event. Joslyn's role, at Minute Match, was to educate the event's attendees on CBU's MBA program; little did she know this event would lead her to finding her perfect volunteer opportunity and help her become more invested in the Memphis community.
While working the event, Joslyn decided to take a look around and see which nonprofits were in attendance. She recognized some of the names of the bigger organizations, but she wanted to learn more about the smaller organizations where she felt she could really make an impact.
In looking around the room and visiting with different non-profits, Joslyn came across the budding nonprofit called Thistle & Bee, whose mission is "to aid survivors of human trafficking through holistic workforce preparedness."   The name Thistle & Bee is very symbolic of the community the organization supports.  The thistle represents the survivors of human trafficking as the thistle is a rugged plant but a beautiful flower just as these women are rugged yet beautiful.  The bee is also representative of these women.  Worker bees spread pollen from flower to flower, and all worker bees are female.  These bees in turn make the most delicious honey. Therefore, although these women have been through very tough times, the honey is representative of the sweetness that will come after the hardship.
After hearing about Thistle & Bee and their mission, Joslyn wanted to get involved right away. They contacted her immediately and said they needed help with any and everything. In discussing ways in which Joslyn could be of value to the organization, Joslyn told them about her business skills, and Thistle & Bee knew exactly where her help was needed most. Now she helps Thistle & Bee with developing their business model and pricing their products.
Because Thistle & Bee in Memphis is very young, Joslyn is helping them get a head start on success.  At Thistle & Bee, Joslyn feels needed. She takes her business skills and applies them to make an impact on others' lives. By developing their business model, Joslyn is able to accurately price their wide range of products – from herbal rubs and teas to dog biscuits and lavender lemonade and mint/lemon-balm tea, with much more to come. When describing her experience with Thistle & Bee, Joslyn says they are "working with me to help me work for them" so they can be successful now and in the future.
Thistle and Bee provides its "workers" with both life skills and job skills. Delving into the workforce after such traumatic human trafficking experiences is extremely difficult, but Thistle & Bee has a gentle way of easing these ladies back into the workforce. Learning these job and life skills will be needed for the survivors' successful futures. Thistle & Bee is there to provide this pathway to success.
Thistle & Bee has a volunteer opportunity for everyone. Whether you enjoy gardening, packaging, developing business models, conversing with victims, or donating money, there's an opportunity for you to get involved at Thistle & Bee.  Joslyn exclaims, "Thistle & Bee is a grit and grind sort of nonprofit." If you'd like to be like Joslyn and help Thistle & Bee build their volunteer network in hopes for a better life for survivors of human trafficking, sign up for our newsletter.