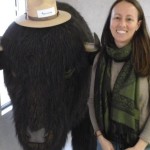 First of all, I love Shelby Farms. It is one of the first places that I discovered in Memphis. Even though I have really only explored the off-leash dog area because I have a dog and I feel an irrational sense of guilt for not letting him run around when we are outside, I truly am in awe of all the park has to offer. So, it was with excitement, and a little bit of guilt for leaving my dog at home, that I set off to Shelby Farms this morning. I was not disappointed.
I pulled up outside of the park's temporary Visitor's Center, which is basically a large trailer with a few offices, a conference table and the all important coffee room. I was greeted by Irene Montanez, the Volunteer Coordinator, and a charismatic ranger named Butch. While Irene handed me a form to fill out, Butch asked if I was there to relieve him and informed me that his truck was parked right out front for me. I enjoyed the playful banter in the office and felt welcomed from the first moment I stepped inside.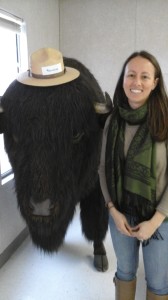 A quick picture with the bison!
Irene pulled out a flyer for the kid-centered Eco EGGStravaganza celebrating Earth Day on April 4th. She asked me to find contact information for people in charge of employee volunteerism at places like Walmart, Target and Kroger. As she worked on getting the internet up and running on the computer in her office (the challenges of working in a temporary office-trailer), Irene told me how she came to Memphis for 3-5 years over 20 years ago. She told me the secret to learning to love with Memphis is to get out and get involved. About a half an hour later, we decided the internet was not going to work, and I could do the work at home. After a quick picture next to the bison in the front room and Butch telling me I had overstayed my welcome, I headed for home.
It turns out that sometimes you can volunteer from your couch while snuggled under an electric blanket. I spent hours looking for information that I felt like should be easy to come by – a few names, some phone numbers and maybe a couple email addresses. It is surprising to me how hard it is to find contact information and how little I felt I had accomplished after a few hours. I can truly appreciate that locating information is an art. For Irene to run what can only be massive a volunteer program, she must be something of an artist.
Working from home.
While my time at Shelby Farms was very short today, I have a slightly better idea of how the organization works. As I was walking out the door, Irene was headed into a day of meetings. She told me I should come back and hang out another day and I can't wait for that to happen because I am going to take her advice. I'm going to jump in and get involved.
P.S. Volunteer at Eco EGGStravanza on April 4th!
Contact Irene Montanez at imontanez@shelbyfarmspark.org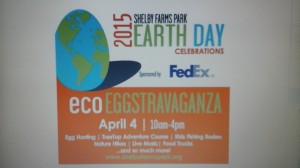 If you like our work, please DONATE to keep it going!
---
Want the insider story and more pictures? Connect with us on Facebook and Twitter!
Looking for great volunteer opportunities in Memphis? Check out our calendar of volunteer opportunities.