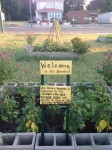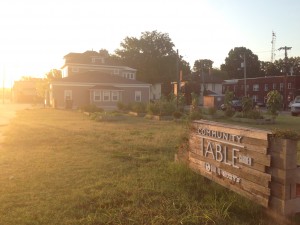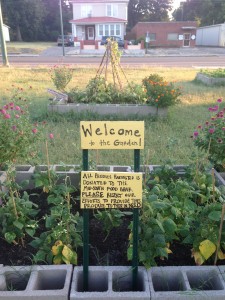 Driving around the city this week I've utilize the new satellite radio in my car, today I didn't have much time to enjoy it during the five minutes trip to the community garden. I arrived excited to get to work in the empty lot turned Community Table Garden. Upon exiting my car I realized I had forgotten my sunglasses; the morning sun cresting the horizon blinded me. Although squinting I couldn't stay in my car and decided to give into my excitement and explore the plot of land while I still had the glowing light of the golden hour.
Shortly upon my arrival, Sarah, the supervisor of the project, arrived and greeted me. As we toured the site my knowledge of agriculture quickly multiplied and I became more connected to local farmers and suppliers like those at the local farmer's market. Sarah and I cleared a vegetable plots that couldn't survive the August heat. Through our work we connected over our shared interests in working the land and to the community garden mission. I was assigned this organization for my Volunteer Odyssey when I expressed interest in food deserts and nutrition. I was pleased to be volunteering in a grassroots effort, and learned that this lot, partially funded by Gaia's recycling programs, was used to stock the local food bank. Gaia is a nonprofit focused on sustainability supported by green donation clothing donation boxes across the country.
Removing my gloves to water the plants, I was able to breathe the wholesome aroma from the dirt on my fingers. This action filled my mind with images of my childhood weekends helping with yard work along with my family, and the smell of fresh-cut grass that would stain the knees of my jeans. I was delighted to discover the water we used for the community garden was rainwater collected from a neighbor's roof. This neighbor donated his time to construct a system to feed natural irrigation into collection barrels, which were fashioned with antique Coca-Cola syrup nozzles for spigots. Everything about this effort and atmosphere seemed wholesome and shared by the community. Even the sign for the location was created by a local Memphis advertisement agency just a few miles away. We watered the plants and filled the hydration system, which consisted of buried pots that held water for the root system, Sarah said this hydration system was built in Austin, Texas. Before moving to Memphis, I called Austin home; a reminder of the overlapping connections in my new community; we were both here to help these plants feed the community.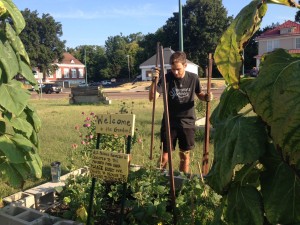 As the morning ended, I exhaled a sigh of summer air. I recalled a passage I recently read which advocated, "getting off your butt and doing something." Today, I did just that and was finally exposed, and then contributed to an effort that has interested me for a long time. Community gardens are a trending topic of late; my experience today reinforced my opinion that they are an integral part of a solution to the malnourishment our society faces. I look forward to getting my hands dirty again, and seeing what's growing next to Huey's restaurant at Gaia's Community Garden Table.