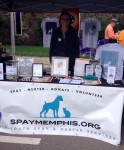 Today I volunteered for an organization Memphis needs. In 2010 Memphis city council approved a mandatory spay and neuter ordinance for cats and dogs.  Since 2005 Mid-South Spay and Neuter Services have performed over 31,000 procedures and counting. Despite huge strides, the entire state of Tennessee still experiences pet overpopulation. Mid-South Spay and Neuter Services is a non-profit clinic dedicated to reducing pet overpopulation and high euthanasia rates. They offer affordable spay and neuter surgeries to the public. As mentioned before, it is the law in Memphis to spay or neuter your pets. We were a very popular booth at the Cooper-Young Festival.
Leading up to my Saturday with Mid-South Spay and Neuter Services, the fuss about the Cooper-Young Festival was reaching a fevered pitch. When I said I would be volunteering at the festival with an organization, the consensus was this was a great way to see Memphis. The Cooper-Young Festival definitely delivered! I got to talk to a lot of people about an important cause AND do some of the greatest people watching in the world.
Weaving through the enormous crowd, I met Stephanie Bennett, Mid-South Spay and Neuter Services' Executive Director. I was introduced to some board members and given a rundown of the agency and the services they provide(Spay and neuter hours). Simple enough! Then I started talking to booth visitors. Nothing gets a person chatting like asking about their pet. (As if my dog fever was not prevalent enough!) People told us about the puppy they just got, the first pet they had neutered, different ways their pets show affection, and made donations in memory of their deceased pets (tips for snips). We even had a family ask about having their potty trained pig come in! These responsible pet owners love the work of this organization.
My three hour shift flew by with good company and a steady flow of people making donations and asking questions. There were a lot of concerned citizens relieved to know they could even bring in a feral animal to be treated at an extremely reduced rate. I feel confident the message we delivered at the Cooper-Young Festival will bring in many new clients to "spay away the strays".
Thank you for reading! Like what you read? Megan Banaszek is searching for a job in the non-profit sector where she can use her Family Services degree and public service experience to make a positive impact in Memphis. …. Contact her at meganbanaszek0123@gmail.com or jobleads@volunteerodyssey.com.
———————————————————————————————————————————————————————————
If you like our work, please DONATE to keep it going!
Want the insider story and more pictures? Connect with us on Facebook and Twitter!
———————————————————————————————————————————————————————————
———————————————————————————————————————————————————————————