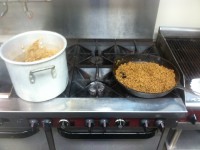 Have you ever wondered if there were any special care facilities in Memphis for adults with disabilities? Furthermore, if they provided good-quality care with passionate employees and a giving spirit? I have. On Day 2 of my Volunteer Odyssey I found the answer.
SRVS "the family answer for disabilities" (their slogan) stands for Shelby Residential and Vocational School, pronounced, "serves". They're all about making sure individuals with physical and intellectual disabilities receive the care they need and truly deserve. I had the pleasure of working in a couple of classrooms and meeting some very fun and exciting students. One student I had the pleasure of meeting was Sandra. Sandra is 56 years old and has a myriad of mental and physical challenges that made her accomplishments at SRVS even more amazing. Sandra was an absolute delight and taught me the many different skills learned when learning the fundamentals of arithmetic. She taught me how to count, color coordinate trees and find patterns in pictures.
Perhaps the never-ending winter has impacted the city, but not the staff's love of their clients. Astrid French was very energetic and was very proud of the work she has accomplished as curriculum coordinator at SRVS. She mentioned how SRVS offers cutting-edge programming such as the Montessori teaching methods implemented through an innovative curriculum. I had to Google "Montessori teaching methods" and immediately saw its prevalence at SRVS. The clients seemed happy and constantly busy so maybe Montessori is the way to go. I'm no expert, but I do know what I saw was a group of people not only learning but enjoying the process of learning and for me, that's what makes the difference.
—————————————————————————————————————————————
If you like our work, please consider making a donation to keep it going!
Want the insider story and more pictures? Connect with us on Facebook and Twitter!
—————————————————————————————————————————————