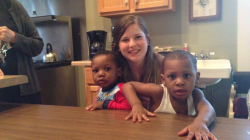 Day 6. I have driven past The Dorothy Day House of Hospitality numerous times and never even knew it existed. The sign-less large gray house sits on Poplar Avenue with no indication of the wonderful organization that functions inside.
Dorothy Day was an activist for people acquiring jobs and places to stay that were safe. In the 1930s, Dorothy and Peter Maurin started the Catholic Workers Movement in New York
City to help the overwhelming homeless population secure safety with shelter, food, and clothing. More than 250 Dorothy Day Houses exist in the US today, and each is based on the needs of its respective area. For example, a particular House may cater specifically to immigrants or those living with alcoholism. The Memphis mission is "Keeping Homeless Families Together." In Memphis, if a family has no home, but has a job, the city will pay a security deposit and one month's rent. However, if a family is homeless but does not have a job, they will be sent to a shelter. The men reside at the Union Mission, and the women sleep at the Salvation Army. If space allows, small boys are allowed to stay at the Salvation Army, but the shelter is usually full, causing families to be separated. When this happens, the boys most likely end up in foster care and away from their mothers' arms.
Having opened in May 2006 in Memphis, The Dorothy Day House of Hospitality has served 31 families with no more than three families living in the house at one time. The families go through extensive interviews, drug testing, background checks, etc., and the House provides anything residents need to get back on their feet as long as they are working hard toward independence. It provides clothes, transportation, GED test registration fees, and counseling, to name a few services. Unfortunately, around 150 families are homeless each night, and the Dorothy Day House must turn away 8-10 families per week. The smaller amount of families lets the organization really work with each resident on a daily basis to set, focus on and reach their goals.
Walking in, I was greeted by Sister Maureen, the executive director, who gave me a
historical overview of The Dorothy Day House and then invited me to join everyone in Sunday prayer. In addition to the six residents of the house, a board member, her young daughter, and a leader in the ministry all congregated in the spacious and comfy living room decorated with a deep couch and several oversized armchairs to give thanks and pray for hope. It's no surprise Sister Maureen's favorite Dorothy Day quote is "Put a pot of coffee and a pot of soup on the stove, open the door, and God will take care of the rest" because as soon as prayer ended, we all gathered for much appreciated coffee and delicious homemade desserts.
As soon as I saw the kitchen, I was instantly amazed. It was the most well-equipped cooking
space I had ever seen: double ovens, two Sub-Zero refrigerators, and an eight-burner stovetop! The dining room had a gorgeous, brown table surrounded by around eight plush, matching chairs as well as a massive white-stone fireplace. There was also a playroom that doubled as an office, which was fully adorned with children's toys such as a cooking station and contained two computers hooked up to the Internet for researching potential jobs. A handicap accessible bathroom connected to the playroom. The residents sleep upstairs, where there is a total of three bedrooms and three full bathrooms.
During my visit, there were two families staying in the house. One young mother, who was about to take her GED exam, had two small boys between ages 1 and 3. These boys were
hands-down the most adorable children and were so excited to see pictures of themselves and even my dog, Schnauzie. The younger brother loved playing his tiny piano and loudly giggled each time he created music of any sort. The laughter of a baby is one of the most joyous sounds in this world! The older brother had so much energy and would dart from room to room, conversing with anyone who would listen. The other family consisted of a 14 year old son, 20 year old daughter, and a mother, who had one on the way (due on Wednesday!). The daughter had just passed her CPR certification and had two job interviews last week. I was able to connect with the 14 year old as we spoke about high school, track, and iPhones. I really had a great time speaking and interacting with these wonderful people while in the House, and I hope I am able to become more involved in helping this magnificent organization thrive.
While I did not learn why these particular families needed to stay in The Dorothy Day House, Sister Maureen gave me a few reasons why families have come here in the past. One mother was in an accident that totaled her car. Sadly, this prevented her from traveling, and she lost her job as a result. Another family had jobs, but did not make enough money to rent an apartment. They did all that they could to make ends meet and that still wasn't enough. Lastly, generational poverty can be a huge hindrance. Can you imagine what success would look like if you had never personally witnessed it?
The Dorothy Day House of Hospitality is a hidden gem in Memphis. It only receives funding
through private donations including monetary as well as furniture. There are other ways to help though through volunteer programs including but not limited to providing meals for the families, registering personal Kroger cards, various types of manual labor, and hosting childcare. To find out more about The Dorothy Day of Hospitality, visit www.DorothyDayMemphis.org. The organization is even being featured in The Bridge, a newspaper written by those affected by homelessness. I plan to purchase mine for $1 at The Memphis Farmer's Market on Saturday! Additionally, The Memphis Rotary Club is hosting a Rotary Bicycle Ride benefiting The Dorothy Day House on April 26, 2014 at Overton Park. You have the option to ride 50 miles, 30 miles, participate in a fun walk/run/ride, or just come to cheer people on. To register for this fantastic event, visit www.rotaryfamilyride.com.
Six days down – only one more to go! Stay tuned for Day 7!
Thank you for reading! I'm searching for a job in writing, event planning, communications, or teaching. If you know of a great fit, please send it our way: jobleads@volunteerodyssey.com or aesamsell@gmail.com.
—————————————————————————————————————————————
If you like our work, please consider making a contribution to keep it going!
Want the insider story and more pictures? Connect with us on Facebook and Twitter!
——————————————————————————————————————————————————————————————————————————————————————————