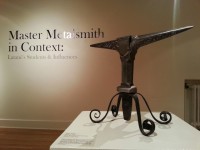 Of all the organizations I encountered during my Volunteer Odyssey experience, the Metal Museum is the one that best suits my skills, experience, and interests. So I have become a regular volunteer there. 
Now I know what you're thinking, and no, the Metal Museum does not feature exhibits on Metallica, Iron Maiden, Black Sabbath, Pantera and Anthrax. The full name of the institution is the National Ornamental Metal Museum, and exhibits artwork made of metal, including sculptures, wrought iron gates, fences, doors, and other everyday items that have been crafted for aesthetic appeal. The museum is located south of downtown Memphis, scenically situated atop the bluffs overlooking the Mississippi River.
I really like the Metal Museum and I have found a volunteer position that fits me well. I primarily work in the library at the Metal Museum, although I do get called upon to help out elsewhere from time to time. Library work particularly suits someone with an academic nature, such as myself. I have spent a considerable portion of my life in various libraries. I love reading. I love books. I love perusing shelves just to see what hidden gems I might discover. I also have previous experience working in libraries. While pursuing my PhD in Leeds, England, I had a part-time job working in the university library.
The Metal Museum has a very interesting collection of books, covering various aspects of metalwork: ranging from the history of metalwork from prehistory to the present, to practical handbooks, and catalogs of metal artwork. At the moment, my work at the museum is familiarizing myself with the collection, after which I will write some articles about the library for various trade journals for artist blacksmiths. My aim is to show that the collection at the museum is unique, and that it can be a useful tool for people who wish to research and make artwork from metal.
I am an historian and archaeologist, primarily interested in early medieval Britain. You might not think there would be anything of much interest to me in a museum dedicated to mostly contemporary metal artwork. Yet, when I first started digging in the collections at the museum, I was surprised by the number of books that intersect with my own academic research interests. For example, I found Anglo-Saxon Ornamental Metalwork, 700-1100, In The British Museum, by David Wilson. I'm sure I have encountered this book when I was a grad student. Not all of the books on the Middle Ages are as relevant to my own interests, but some of them can be fun to read. So far, based almost entirely on the cover, my favorite book that I've found there is this one:
The title is Die Mittelalterlichen Metall- und Holz-Türen Deutschlands, which translates to the "medieval metal and wood doors of Germany".
In addition to the books in the library, I am fascinated with the objects in the museums collection. The main exhibition currently on display at the museum features the work of this year's master metalsmith of the Metal Museum, Thomas Latané. He is an American artist blacksmith whose work is heavily influenced by traditional metalwork going back to the Middle Ages. Here are some examples of his exquisite artwork:
You can view all of my photos from the exhibit here, but don't stop there. Go to the Metal Museum and see it for yourself. It's amazing!
The Metal Museum has other artifacts in its collection that I find interesting although they have nothing to do with the Middle Ages. I am from Louisiana, and I have an interest in its history and culture, particularly that of New Orleans. I grew up in Baton Rouge, but my father was from New Orleans. His mother was also from New Orleans, and through her I can trace ancestors who have lived in New Orleans since its foundation. Other various relatives of mine have lived in New Orleans at one time or another, including my mother and one of my sisters. I met my wife while she was living in New Orleans. Our courtship took place mostly in New Orleans and we were married there. So what does that have to do with the Metal Museum? If you know anything about New Orleans, you might know that the oldest part of the city is the French Quarter, and that one of its distinctive features is the wrought-iron railings that graces so many balconies. The Metal Museum has a collection of patterns used for many of those railings. I'm looking forward to the opportunity of having a closer look at this collection. Also, in the gardens in the middle of the buildings of the Metal Museum sits a segment from a corn-stalk motif iron fence:
This is the same pattern used for the fence at the aptly named Cornstalk Hotel in the French Quarter. I know this because the Cornstalk Hotel is where my wife and I stayed the night of our wedding.
It's a lovely hotel and I recommend it if you ever need a place to stay in the French Quarter.
Anyway, I have just scratched the surface of my potential at the Metal Museum, so I expect I will be spending time there for a long time.
Thank you for reading! I'm searching for a job as an historical consultant, researcher or educator. If you know of a great fit, please send it our way: jobleads@volunteerodyssey.com.
Cheers,
Michael
My profile pages:
LinkedIn
Academia.edu
Twitter
—————————————————————————————————————————————
Did you know it cost more than $2,000 for us to host Michael's Odyssey Week? If you like our work, please consider making a contribution to keep it going!
Want the insider story and more pictures? Connect with us on Facebook and Twitter!
—————————————————————————————————————————————
—————————————————————————————————————————————