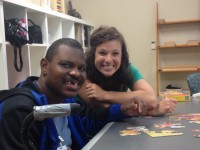 I'm still smiling about my wonderful day at Shelby Residential and Vocational Services (commonly known as SRVS).  SRVS is a nonprofit organization that provides programs and services for individuals with disabilities and their families.  Some individuals live at home and just go to SRVS during the day.  Some live in residential homes (run by SRVS) with other disabled individuals and a staff member who assists them.  SRVS is available for all ages, but most are middle-aged due to the fact they can go to public high schools until they are 22.  They offer a variety of programs such as employment training, family support, clinical services, and community living.
As soon as Julie and I sat down with our first group of friends, we knew it was going to be a great day.  We helped the volunteer coordinator, Allison, with her art class who was painting coffee cups to be sold at the Germantown Festival in September.  Each cup would be baked (to set the paint) and a tag would be attached with the picture and name of the person who painted it. So cool! When a few friends were done painting, they started working on little bead projects that were very time consuming.  My new friend LaQuita reminded me multiple times that it was going to take us forever to finish hers.  Julie and her friend Tommy were working on one as well and they were having just as difficult of a time getting their beads to stay on the board.  When we finally finished, Allison placed wax paper over them and ironed them until the beads melted together.  LaQuita had hers made into a necklace, and Tommy's became a keychain.  Although they took forever to complete, the outcome turned out great!  They were very proud to show off their melted bead projects when we ran into them again at lunch.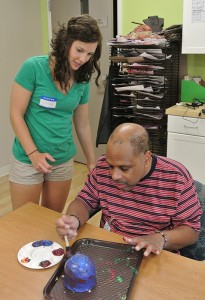 After art, Julie and I joined in on a class in the Learn Center.  I sat with a young man named Clifton, and he seriously made my day.  He immediately stated that we would be best friends and expressed to me how much he loves Mountain Dew.  He was pretty disappointed to hear that I was not a Mountain Dew lover like he was.  He had been in the process of writing a story about a snapping turtle when I arrived, so we finished up the story and drew a few pictures to go along with it.  I could have chatted with Clifton all day long.  He was so full of expression and really just loves everyone.  Before he headed to lunch, he reminded me that I was his best friend and then gave me a hug.
We then moved on to help another class that appeared to have friends with more severe disabilities than the last class.  I helped my new friend Ernest finish a puzzle while Julie helped her friend Richard string some pasta-shaped beads onto string.  Both Ernest and Richard amazed me.  They were so quiet and pensive when they were doing an activity, but then they would become so full of life with smiles and laughs whenever they found something funny.  Neither of them were very verbal and both had difficulty with hand coordination and walking, yet they seemed so happy to be spending the day with their friends.  We followed the class to lunch before moving on to the teaching kitchen.
In the teaching kitchen, we met back up with our friends from art class and watched them make chocolate chip muffins.  The kitchen has an area with a stove and oven that is surrounded by counter space where everyone can participate in meal preparation and cooking.  Each of our friends got to pour water into the muffin mix, shake the container with all the ingredients, spray the muffin sheet, and pour the batter.  Tomorrow they get to eat the muffins for snack!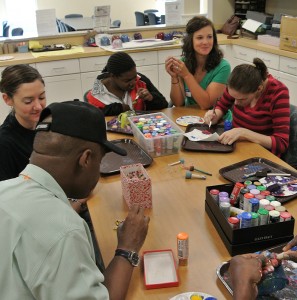 I could go on and on about my day at SRVS because I really just loved it that much.  It truly is a wonderful place and it makes me SO happy to know it exists.  Families of individuals with special needs go through many moments of stress and anxiety over the years.  There are so many factors to be considered that most families never think much about: What schools have a special ed program? Will they have the ability to work? Will they live with me forever? What happens when I'm gone? Do I ever get a break? I've worked with a girl with special needs named Annie for about two and a half years; helping teach her new communication skills and providing her parents with respite care when needed.  One of her mom's big questions is what will Annie do when she finishes high school in a few years.  Spending the day at SRVS made me so excited about the possibility of Annie being a part of their program in the future.  These families want to know that their loved one is being cared for, learning new things, and feeling happy.  At SRVS they are just that! I definitely plan to return to SRVS in the near future when I can.
What I learned about myself today: I LOVE the special needs population.  I actually already knew that about myself, but this experience just affirmed those feelings.  They have hearts of gold and so much love to give.
—————————————————————————————————————————————————
If you like our work, please consider making a 
contribution
 to keep it going!
—————————————————————————————————————————————————
——————————————————————————————————————————————————
——————————————————————————————————————————————————