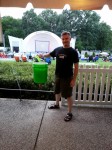 Today my volunteer assignment was to help Indie Memphis with their concert film series at the Levitt Shell. As with SRVS, I was back in familiar territory with this volunteer assignment. While I was living in Leeds, England, I volunteered for an independent art house cinema, the Hyde Park Picture House, which occasionally featured live music performances. My volunteer job there lead to a part-time job. In fact, almost all the paid staff there started off as volunteers. I loved working there and never really thought of it as a job, but saw it more as an opportunity to hang out with friends and talk about pop culture while putting on films for others. I think the other staff there saw it that way too. Indie Memphis reminded me of the Hyde Park Picture House, not only because of the combination of independent film and music, but because the other staff and volunteers also seemed to view what they do not so much as work, but rather providing good entertainment while you get to hang out with your friends.
Of course there was some work involved. Shortly before the film was scheduled to begin, I was asked to go through the crowd with a bucket, asking for donations to Indie Memphis. Brighid, the program manager for Indie Memphis, prepared me for this task by presenting an example of a short speech I could use to encourage audience members to donate, explaining that Indie Memphis likes to put on the concert film series and live music concerts for free and would like to continue doing so. Also, we would accept any donation no matter the amount. When I actually walked through the crowd, I was pleasantly surprised to discover that the audience members did not need much encouragement to donate. I think more than half of the people I approached donated some money, and many of them didn't even wait for me to ask but had their money ready by the time I got to them. Many of them were regular attendees of Indie Memphis events like the concert film series and were expecting someone to come around accepting donations. They were all happy to donate and quite a few chatted with me for a bit, speaking about how much they enjoyed coming to the Levitt Shell to watch the free concert films. Anyone who donated also received a raffle ticket for the chance of winning the DVD of the first film being screened tonight, the Rolling Stones' Rock and Roll Circus. I stopped collecting donations once the film began. While the film was running, I sat at the Indie Memphis table at the back of the Levitt Shell selling Indie Memphis merchandise, like t-shirts and buttons. Once the film was over, I helped tidy up, and that was it.
At first glance, volunteering for Indie Memphis might seem the odd one out when compared to the rest of my week working with various non-profits in the Memphis area because most of the other organizations work directly with the poor and homeless. Having said that, the events that Indie Memphis organize have a positive impact on the same people that the other organizations are trying to help. For example, when I arrived at the Levitt Shell, I noticed one of the vendors for The Bridge, Joe, selling copies near the venue. The Indie Memphis event provided an opportunity for him to earn money. Furthermore, even though the homeless, jobless, and otherwise poor have the most urgent need for help, it's important to remember that many others are also struggling financially and without things like Indie Memphis' free concert film series, they might otherwise have no opportunity to enjoy cultural events.
Thank you for reading! I'm searching for a job as an historical consultant, researcher or educator. If you know of a great fit, please send it our way: jobleads@volunteerodyssey.com.
Cheers,
Michael
My profile pages:
LinkedIn
Academia.edu
—————————————————————————————————————————————
If you like our work, please consider making a contribution to keep it going!
Want the insider story and more pictures? Connect with us on https://www.facebook.com/VolunteerOdysseyand Twitter!
—————————————————————————————————————————————
—————————————————————————————————————————————