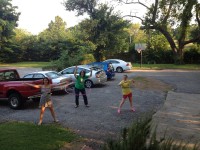 Amazing things are happening at a large and very ordinary looking Midtown home. It sits unassumingly on a busy street, with no sign in the yard marking the residence. Inside, like most homes, there are bedrooms, a play room, a dining room, and a kitchen. In many ways it is a normal home, and in others, it's far from it. This home, called the Dorothy Day House of Hospitality (DDHH), serves as transitional housing for homeless families living in Memphis. The DDHH offers a variety of support services and works with each family to help them re-establish their independence while offering a safe place to call home. Most importantly, families get to stay together. Already facing a difficult life situation, they don't have to worry about being separated. As every Odyssey blogger before me, I ended my week here. It was a peaceful and reflective conclusion to all that I have experienced. I'm happy Clayton got to join me again!
I spent the afternoon making my favorite dessert – banana split cake. Along with a few handmade, brightly colored hula hoops, it traveled with me to the Dorothy Day House, for their weekly "Sunday at Six" gathering. I was so happy to bring my favorite dessert to share with families staying at the house and other people there for the evening. A small group of us, including 2 families and Sister Maureen, the executive director of the DDHH, shared a short prayer service. We read together and offered thanks for things in our lives. As one man, Taylor, spoke of many things he was thankful for, my heart was full for him and his sweet family.
After the service and dessert sharing, I showed them the hula hoops I brought – a gift for the house – and before long a few of us were outside! It seemed perfect that I was able to end my week by sharing something I love so much. Caitlin, a teenager currently staying at the house, picked it up so easily. We had previously chatted about her creative, artsy side and I knew she'd like the hoops. I hope many more people can enjoy them during their stay at the house. I know I'll be happy thinking of them there.
More than any other time this week, I felt grateful for the kindness flowing through this city. I listened to Sister Maureen talk about the past and future of the DDHH, and the abundance of community support that the families and the house receive. I felt such gratitude for her in helping 30 families, to date, transform their lives. I also felt inspired to give back to the Dorothy Days House however I can. They depend entirely on support from donations, and the help of innumerable volunteers. Whether you can donate household items or clothes, help with tutoring, yard work, cooking meals, or moving a family into their own home, the Dorothy Day House is always in need, and deserving, of whatever you can do.
Today I am thankful for everything I have in my life, including a home, a family, and a support system. You all know who you are and I love you. I am also thankful that now I know about a home that gives families in need these things, too. Beautiful things do exist here, even in the unlikeliest of places.
~Adriene
—————————————————————————————————————————————
If you like our work, please consider making a contribution to keep it going!
—————————————————————————————————————————————
Want the insider story and more pictures? Connect with us on Facebook and Twitter!
—————————————————————————————————————————————